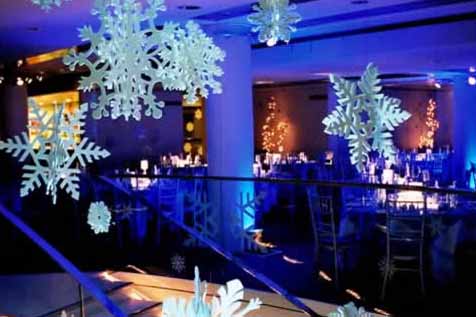 Laura Nowosad, head of PR, marketing and events organiser at recruitment specialist Timothy James Consulting
Christmas 2011
We have three offices across the UK so the Christmas party is a way to bring everyone together. Last year we held the event in Bristol, at the Grand Thistle Hotel, which was chosen due to its proximity to our head offices.
Before the party there were speeches, a Secret Santa gift-giving and prizes in the office followed by a traditional three-course meal for 80 at the Duchess Suite. For entertainment we hired a David Blaine-style magician and rented photo booths. Everyone stayed overnight and we held a silly awards ceremony with a 'best dressed' prize for the girls.
Christmas 2012
This year we'll have 100 staff as the company has grown in size. We'll be arranging another party for the whole company, but we are mindful of costs. We usually work in the Bristol office in the morning but to save costs on train tickets we may send staff from the Manchester and London offices after peak time. We are still in the planning stages for this year, so haven't decided on a venue yet. The key for me is organisation and keeping a close eye on budgets to avoid spiralling costs. However, if you're willing to stick your neck out it's possible to negotiate good corporate rates for Christmas parties.
Pauline Mulqueen, office manager and event organiser at property company CP Bigwood
Christmas 2011
In summer last year Bigwood merged with Curry & Partners so the Christmas party was the perfect opportunity for all the staff to get to know each other. The event was held for 99 people at the Burlington Hotel in Birmingham.
We chose this venue because it was big enough to accommodate the merged companies. We also needed a hotel that was centrally located, because our staff are spread across the Midlands and we have offices in Stratford and Henley in Arden. We held a traditional three-course meal with a disco, which everyone really enjoyed. A slight issue was that the bar and restaurant were divided, which made it harder for staff to mingle. I'd recommend using one big room for events where the delegates need to interact as much as possible.
Christmas 2012
We'll be having another big party again this year, with more than 100 people now working for the company. I've not chosen a venue yet but I'm looking at places in central Birmingham with a lively atmosphere and good menus. We're always mindful of costs but we look for quality in a venue above all else. The key with a Christmas booking is to book well in advance as it can be difficult to get the dates you want for popular restaurants and hotels.
Have you registered with us yet?
Register now to enjoy more articles
and free email bulletins.
Register now
Already registered?
Sign in