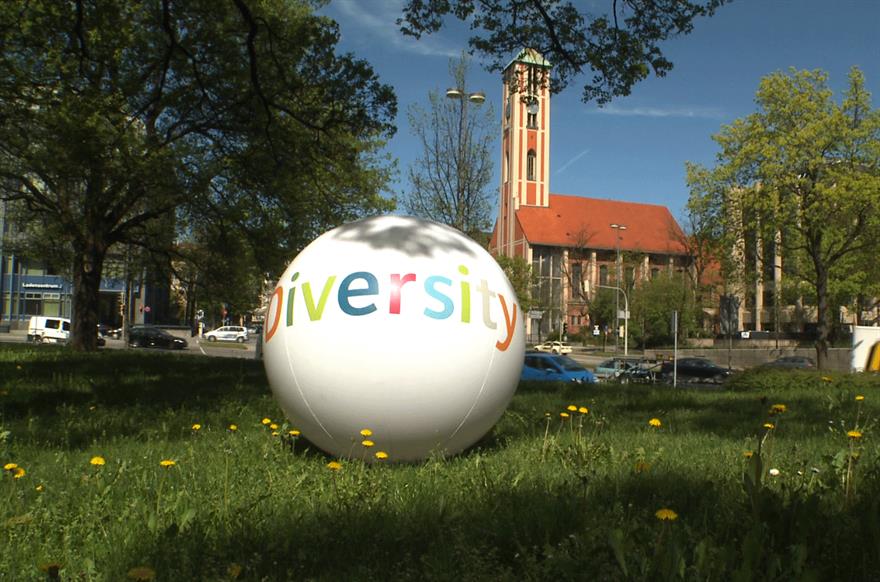 Pre-event planning: Every year, Siemens holds an event to promote diversity across the business. The events are typically held at European locations, most recently Munich, for around 200 staff.
In 2012, to bring the increasingly important subject of inclusivity and regional variation to life, Siemens set about planning a project that would make use of video and social media to better inform staff globally about the benefits of a diverse workforce.
To this end, global diversity communications manager at Siemens Clare Miller enlisted the help of Primary's director Dan Stevens, who appointed video production company Richerview and animators Conrad Caine.
Objectives: At Siemens, diversity encompasses a broad set of definitions and involves engaging clients in collaborative initiatives, like a share matching plan, employee benefit plan, the funding of staff charity projects and a scheme to improve employees' qualifications.
"Our definition is different to most companies, on account of our vast number of staff and global reach," says Miller. "We wanted to bring them together to tell their individual - and often moving - stories to communicate how every staff member is part of Siemens' future and everyone has a right to their say."
In a dramatic shift away from the usual format for promoting diversity, Siemens decided to run events at nine of its offices worldwide, engaging more than 1,000 staff in total. Over a 17-day period, the visits would be made personally by Miller, Stevens and typically a media crew of four, led by Denise Kronau, chief diversity officer at Siemens.
Staff with interesting stories, as well as senior figures from Siemens, were sought out at each event in order to film vox-pop-style pieces-to-camera. The short videos, presented by Kronau, were then edited on a six-to-eight-hour deadline, complete with statistics about the city and the country the video was filmed in, accompanied by bespoke animations.
Siemens' staff were made aware of the tour via Facebook, Twitter and email updates.
In addition, Post-It notes were placed on staff's desks in the locations of the tour, to offer a physical reminder of the upcoming event.
Challenges: The 22,000-mile tour of the world was ambitious, taking in destinations including Zurich, Istanbul, Mumbai, Dubai, Tokyo, Mexico City, Atlanta, Munich and Lincoln in the UK.
"Covering such distances, and coping with the air travel was the biggest challenge. Each day would be spent landing, catching up with sleep, then going straight into the day's agenda," says Miller.
Daily itineraries would vary according to location, but typically involved workshops, meetings and events with staff from the local Siemens office and a tour, talking to workers about their unique challenges.
"We would aim to find out how diversity inspired the staff at each office and how they defined the term," says Miller.
Solution: Having supportive and experienced people helped the team to cope with the toll of long-distance travel.
"We often had to work on the plane to get the videos finished in time," says Stevens. "Although the experience was intense, we made great travelling companions and learned to work together and help keep each other motivated. The experience was rewarding for everyone."
The whole event was a great example of the benefits of collaboration.
The videos that emerged from the tour showcase Siemens' varied initiatives to inspire staff and make a difference. The video from the Atlanta USA event, for example, features a green initiative in which staff are picked up for work in a branded bus to help cut carbon emissions. Staff also took part in brainstorming sessions to define what diversity meant to them, with the results shown in some of the videos.
Meanwhile, local nuances were examined globally, focusing on the economic situation in each region and Siemens' contribution. The video from Mumbai's office, for example, saw staff discussing topics including women's rights and challenges like providing clean water to locals.
Client verdict: While the tour's itinerary was planned from start to finish, the team knew that the staff's reactions would be unpredictable and would colour the experience.
"The tour helped us learn as a company how inspired our staff are. We actually had people in tears over how proud they were of their achievements, and how happy they were to work for Siemens. We were amazed by the passion that was captured, and it really came through on the videos," says Miller.
Post-event analysis: Siemens chose to use Youtube and social media as a way to engage those who weren't in the room at the events, with an estimated 25,000 staff clicking the videos online.
"The tour generated a significant increase in traffic to online portals, but more importantly gave a single voice for Diversity in Siemens across the globe," says Miller.
"The tour generated engagement and awareness of key issues facing different countries throughout Siemens. Recognition of the success of the tour has been in the form increased discussion on our various portals and increased awareness of the issues our employees face on a daily basis. When referring back to the original objectives we can safely say the single most important objective was to raise awareness of our Diverse organisation - that was achieved."
TIMELINE
January 2012: Siemens and Primary start collaboration, with the idea finalised before the end of the month
February 2012: The idea is presented to Siemens management and receives approval
March 2012: Locations are decided on for the tour
April 2012: The tour starts
FACTFILE
Company: Siemens
Event: Diversity Tour
Agency: Primary
Group size: Typically 100 per session
Date: 10-27 April 2012
Venue: Various Siemens offices worldwide
The videos: see below for a selection of videos from the tour
Have you registered with us yet?
Register now to enjoy more articles
and free email bulletins.
Register now
Already registered?
Sign in