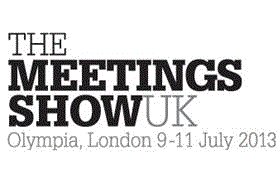 Meeting of minds
The two independent groups of industry leaders met in London last week to take part in sessions focused on the delivery of the inaugural show, which kicks off in July 2013.
Discussions included strategies for attracting top buyers from associations, agencies and corporates whilst delivering a high quality education programme.
Chair of The Meetings Show UK advisory board Paul Kennedy, said it was reassuring to confirm that plans for the show are supported by industry experts.
"The real success was the number of new ideas, information and advice we received," he said. "Working in an open and honest manner we developed a range of ideas that will ensure The Meetings Show UK's position as the market leading event for meeting professionals."
Educational ideas
Elsewhere, the education session meeting highlighted a need to deliver more creative, focused content.
Chair of The Meetings Show UK education panel Sally Greenhill, said: "Attendees of all types want a relevant learning experience. The diverse range of skills and backgrounds around the table ensured a varied meeting with input from all sides of the industry."
The minutiae of the show was also discussed, including logistical challenges.
The Meetings Show UK event director Steve Knight added: "The outcomes and deliverables ranged from top level strategic planning to simple logistics, all of which will be considered and built into the show."
HBAA executive director Peter Ducker said the meeting was a "crucial opportunity to challenge the accepted norms of a trade show".
"This was a chance for experts from all sides of the industry to meet, discuss what they want from the show and forge plans that will deliver results for everyone involved," he added.
The Advisory Board members are listed here.
The Education Panel members are:
· Sally Greenhill, managing director The Right Solution (chair)
· Paul Kennedy, director, Kennedy Integrated Solutions
· Elling Hamso, managing partner, Event ROI Institute
· Lesley Williams, head of Association Sales Marketing Edinburgh
· Angie Mason, director Absolute Corporate Events
· Heledd Williams, head of business tourism, Cardiff and Co.
· Annalisa Ponchia, executive officer, European Society for Organ Transplantation
· Juliet Price, director, Polygon Consulting
· Caitriona Lavery, sales manager, Hasting Hotels, Ireland
· Caroline Hill, managing director, Compliant Venues
The Meetings Show UK's inaugural event will take place during 9-11 July, 2013 at Olympia, London. The 5,000 visitors to the show will include 1,500 hosted buyers from across the UK and Europe.
Have you registered with us yet?
Register now to enjoy more articles
and free email bulletins.
Register now
Already registered?
Sign in