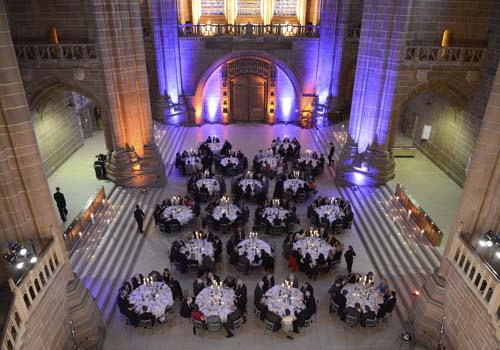 Pre-event planning
The Digestive Disorders Federation Conference was the first combined meeting of the Association of Upper Gastrointestinal Surgeons (AUGIS), the British Association for the Study of the Liver (BASL), the British Society of Gastroenterology (BSG) and the British Association for Parenteral and Enteral Nutrition (BAPEN), which replaced each association's annual meeting in 2012. The conference is expected to take place every three years (pending evaluation) and has four dedicated tracks, designed by each association.
Challenges
The first year of merging four association events into one is particularly challenging, says Lynn Samson, managing director of global PCO MCI. "A merger affects every element of the conference, from something as simple as establishing a date, to branding, logos, marketing, speaker entitlement policies, social programme and sponsors," she says.
"You are starting a new event from scratch and effectively setting up a new business model. How to approach every aspect needs to be agreed by all parties."
The four associations agreed to hold the event in June, which was equidistant between each association's annual conference. However, one association's previous event had taken place in December 2011 - just six months earlier. Sponsors needed to factor this into their budgets and timelines, but many exhibitors booked late and space sold out.
Speaker entitlement policies varied. For example, one association traditionally paid speakers' expenses, whereas speakers from another enjoyed the kudos of presenting and had always paid for everything, including their registration fee.
Solutions
A steering committee was formed, consisting of a chief executive from each association, two members from MCI and a chairman, who was a pioneer of the event and could take a neutral stance. Yet, it soon became clear that not all the information was disseminating from the chief executives to the associations, so a communications committee was formed, which included 16 marketing and conference managers from each association and MCI.
A new speaker entitlement policy was set up and MCI distributed letters to all 425 speakers, confirming their entitlement. "Because the letter was sent from MCI, we were able to take the heat away from the associations when some speakers challenged the new policy," reveals Samson. "Together, we appeased the situation by explaining the change and by remaining flexible."
When exhibition space sold out, new sponsorship items were created, such as a workshop, so exhibitors could still be involved.
Samson adds: "It was important to have one point of contact, too, and one clear communication channel with tailored messages. We targeted each association's members separately, so they received emails highlighting conference tracks that were relevant to them."
Post-event analysis
The joint event created a more extensive scientific programme with 26 break-out sessions at any one time, but many delegates felt there were too many clashes. "A possible solution is to have a hybrid event in 2015," suggests Samson.
Members were informed of all changes following the merger, but some were furious when they turned up to find that lunch was not provided as it always had been. Samson explains: "I think two of the associations were nervous about the changes and did not communicate clearly with their members for fear that they would not turn up. It is essential to have a clear dialogue with all stakeholders and to communicate clearly with your members."
Timeline
January 2011: Decision taken to create a joint event as a pilot
January 2011: Steering committee formed
June 2011: Communications committee formed
January 2012: Abstract deadline

Factfile
Organisations: Four industry societies
Event: The 1st Digestive Disorders Federation Conference
Venue: ACC Liverpool
Date: 17-20 June 2012
Number of delegates: 3,500
PCO: MCI
Evening venues: Liverpool Cathedral and Merseyside Maritime Museum
Fees: Member £380 or £160 per day; non-members £500
Have you registered with us yet?
Register now to enjoy more articles
and free email bulletins.
Register now
Already registered?
Sign in