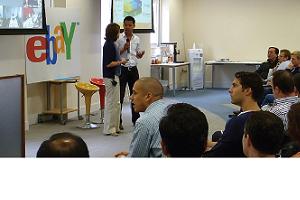 Improve performance
MPI has developed its first research into hybrid meetings, examining how businesses are using hybrid events to improve performance, increase sales and gain attendees.
Ebay and Thrivent Financial are among organisations which have shared hybrid events case studies with MPI for the study, which includes a toolkit and webinars to be broadcast this month.
Ebay strategy
Ebay holds a monthly European Team Brief to bring together its employees in 13 different European countries.
According to Ebay's head of European employee communications Richard Davies, the objectives are to "connect our employees to their leaders and to our business strategy so that they understand where we are going and why – and also how we are performing as a business".
Although the European Team Brief began as a way for managers to update teams, it has evolved to become more discussion-orientated, added Davies. Participants interact face-to-face in large, designated areas in their offices, as well as virtually, connected to the other offices.
Crystal Interactive
Most recently, Ebay has begun working with Crystal Interactive – which developed an audience response system specifically for the monthly briefing meeting – and gains feedback through attendees' smartphones, laptops and tablets.
"It is growing all the time as Ebay grows," added Davies.
Meanwhile, Thrivent Financial decided to plan a hybrid national sales meeting to reach the 60% of representatives who did not attend in person. Post-event analysis carried out over three months after the hybrid meeting showed that productivity increased for both face-to-face and virtual attendees.
A total of 51% of the virtual attendees said they were likely to attend a future national sales meeting in person.
Webinars
A webinar – Insights from MPI's First Hybrid Meetings Research – will be held on 18 September, while MPI will also present tips online on 25 September, through its Five Lessons Learned From the Hybrid Research presentation.
Techniques for Creating a Remarkable Hybrid Event video - from MPI's World Education Congress 2012 - is already available online.
Have you registered with us yet?
Register now to enjoy more articles
and free email bulletins.
Register now
Already registered?
Sign in