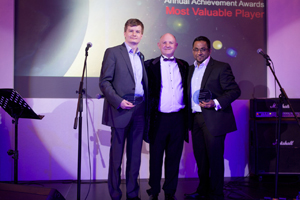 Pre-event planning: Aspect Enterprise Solutions, a leading software and applications business specialising in risk management and commodity trading, holds a conference in January every year to motivate its staff and plan the year ahead.
Unlike previous years, this year's three-day conference in the Four Seasons Hotel in Limassol focused on having fun and 'giving something back to the community', in addition to the business-oriented meetings and seminars that took place throughout the weekend.
Cyprus was chosen for its location: as the event was taking place in winter, it needed somewhere with a mild climate that was easy to get to from the UK.
With more than 150 delegates attending from across the UK and Europe, the venue also had to be easily accessible and big enough to accommodate attendees, two criteria that the hotel also met.
Challenges: As there was no official marketing or event planner at the company at the time, finance assistant Linda Emery took charge and organised the event.
"Coming from a finance background I was concerned how it would work but actually everything went really smoothly," Emery explains. "We worked with CPC Events in Cyprus and they handled absolutely everything for us."
Solution: Emery worked with CPC Events to fine-tune the details. She wanted the emphasis to be on giving something back to the community in a fun and engaging way, rather than focusing entirely on business strategies.
Some 60 delegates attended the conference, seminar and break-out sessions on Friday and Sunday, taking part in team-building exercises and quizzes. During Saturday, they travelled to the Theotokos Foundation, a charity that provides care and support for disabled children, and helped staff paint the walls of the Theotokos school.
In the evenings, delegates enjoyed dinners and music entertainment provided by the hotel.
Post-event analysis: Delegates enjoyed the experience and the company is hoping to return next year. "The whole event went really well," says Emery. "We usually have a policy not to return to the same destination twice, but we all loved it so much that we will be going back in 2013."
Christos Christou, managing director of CPC Events, adds: "Initially the delegates were expecting just sun and beach, but the experience far exceeded their expectations. They were delighted with the five-star hotel and enjoyed everything the island had to offer."
FACTFILE
Company: Aspect Enterprise Solutions
Event: Annual conference
Group size: 60 delegates
Date: 20-23 January 2012
Venue: The Four Seasons Hotel, Limassol, Cyprus
Have you registered with us yet?
Register now to enjoy more articles
and free email bulletins.
Register now
Already registered?
Sign in