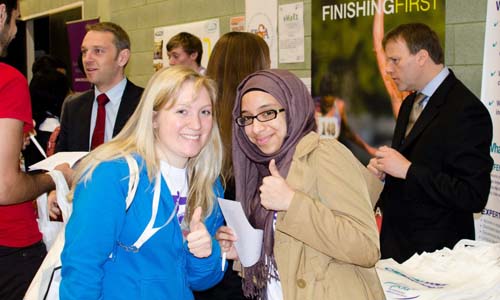 The British Pharmaceutical Students' Association (BPSA) held its 70th Annual Conference in April 2012 at Sunderland University (UniSpace Sunderland).

More than 130 post-graduate students and pre-registered trainee pharmacists attended the week-long event, which was organised by third-year pharmacy students, Minna Eii and Mark Learmouth from the University of Sunderland.

Minna Eii explains: "Mark and I went to the 68th Annual Conference in Birmingham and really enjoyed ourselves. We have been planning ever since seeking our university's permission and funding in order for us to put a bid in to host the conference during the 69th conference in Portsmouth.

"We had to present a five-minute speech and faced 45 minutes of grilling by 80 students in the room as to why we should host it in Sunderland, which was tougher than any job interviews. The last time the BPSA Annual Conference was held in Sunderland was 1979, we were pleased to bring it back 33 years later."

The BPSA is entirely run by volunteer students. At each annual conference, the association elects an executive committee comprising of 18 students, pre-registration pharmacists and first year qualified pharmacists based on a nomination and voting system. Each member of the executive has their own role and two of these are the annual conference organisers.

Ryan Hamilton, BPSA President, says: "By sitting on the committee, students gain professional credibility, including advantages when job seeking; networking and making close friends; soft skills, knowledge of the profession and much more.

"Also, the event remains cheaper for members and, as an association, we gain knowledge of exactly what our members want from the event.

"Time is a huge challenge because we all study as well as carrying out our roles on the BPSA Executive," explains Hamilton. "We had to have good time management skills and utilise the skills and experiences of the whole team. "

A student conference also requires a hectic social programme too. Eii added: "There was a different venue every night. We introduced our committee members at the 70s Disco Welcome Night. We had ice breaker games and organised a photo scavenger hunt around the City of Sunderland. As it rained, we cancelled the hunt and hosted a pub quiz at Revolution Bar instead.

"We also had reception drinks and award ceremony at Sunderland Marriott Hotel, followed by a three course meal at Roker Hotel where we also hosted a blind date.

"We have a 70s dance workshop at National Glass Centre with a seaside themed buffet for our Beach Party. Most evenings are sponsored by different companies that our association has been closely working with for the past few years."


Have you registered with us yet?
Register now to enjoy more articles
and free email bulletins.
Register now
Already registered?
Sign in