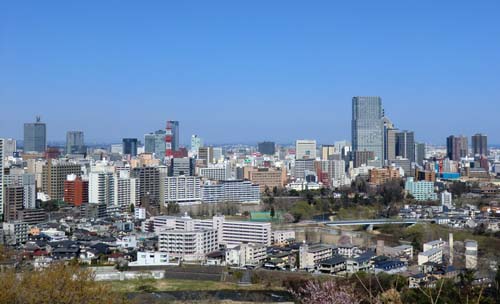 Why should associations come to Sendai?
Sendai is known in Japan as the 'City of Trees' and offers meeting participants a compact city full of nature and four distinct seasons. It also offers excellent research institutes, universities and meetings infrastructure. It boasts a strong network of local volunteers who are happy to assist with the running of events and to help delegates make the most of their time in Sendai.
Is there an ambassador programme?
Sendai Convention Bureau is investigating an the possibility of an ambassador programme to use its local academic community to promote the city.
Where does Sendai sit in the ICCA rankings?
Sendai is a relatively small city in a global sense, and in 2010 it ranked at 215 internationally, and 45th in the Asia Pacific and Middle East region. Unfortunately, the events of March 11th in 2011, meant that it did not host enough meetings last year to rank in ICCA's report, however it is expected to quickly return to a ranked position.
Venues
Convention centre
Sendai International Center can accommodate up to 1,000 delegates and currently has exhibition space of 755 square meters. This exhibition space is due to expand in 2015 with the opening of a new venue next door.
The Center is a 15-minute walk from the city's central JR Sendai Station and a 20-minute transfer from Sendai airport to JR Sendai Station by train.
Conference hotels
The Westin Sendai is the key conference hotel, which recently hosted the WTTC Global Travel and Tourism Summit earlier this year.
Academic venues
Sendai is famous within Japan as a centre of academic and research excellence. There are a large number of universities and colleges, including the famous Tohoku University, which alone hosts around 20 international conferences annually – mainly in the fields of engineering and medicine.
Evening venues: something different
A Japanese restaurant named Shokeikaku is the former residence of the Date family, who were the feudal lords of the area during the Edo period (17th-19th centuries), and is now used as a unique venue for a variety of types of gatherings and special occasions
Matsushima is a group of islands located near to Sendai, and is widely regarded as being one of the three most beautiful spots in Japan. Conference organisers can rent boats to cruise the Matsushima Bay for an evening reception.
Accommodation
There are 14,000 hotel rooms in the greater Sendai region, with accommodation ranging from budget properties to luxury hotels. On average, the top-level hotels in the city cost about £120 per night.
The Sendai Washington Hotel will open in 2013 with 240 rooms.
Getting there
Sendai Airport is a 20-minute train ride from the city centre. The airport has domestic connections to eight cities within Japan, and international connections to Seoul, Guam, Dailian, Beijing, Shanghai and Taipei. The major airlines flying to Sendai are ANA, JAL, Asiana and United.
Getting around
Sendai is a relatively small city, so getting around the city centre on foot is very easy. It has a well-developed transportation network, including trains, subways and buses. Compared to major Japanese cities like Tokyo, Sendai has a very calm and relaxed atmosphere. The city itself (like all of Japan) is very safe, and international visitors have nothing to fear in terms of street crime.
Partner programmers/social activity
Sendai is at the centre of Japan's northeastern region, known as Tohoku. The region is home to many interesting and historic sites, and could easily keep delegates busy for a pre- or post-conference tour.
Venturing further afield to some of Japan's most famous cities is easy. Tokyo is only 1½ hours away from Sendai by bullet train. The airports serving Osaka and Kyoto are also very accessible, being only about an hour's flight from Sendai.
What PCOs can organisers use?
Japan has a huge number of fully capable PCOs with expertise in working with international meeting planners. These PCOs range from huge multinationals with global operations to smaller, bespoke organisations based in Japan. Sendai Convention Bureau can help match meeting organisers with PCOs who best suit their meeting's needs and requirements.
Have you registered with us yet?
Register now to enjoy more articles
and free email bulletins.
Register now
Already registered?
Sign in