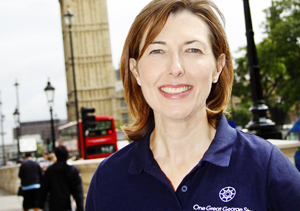 How was One Great George Street chosen as the venue for the London Media Centre (LMC) for the 2012 Games?
The Mayor of London Boris Johnson selected One Great George Street to house the LMC for the London 2012 Olympic and Paralympic Games. The venue's selection success followed a competitive pitch between a significant number of renowned London venues. Our location in the heart of Westminster, outstanding service, conference and event facilities and commitment to sustainability, were key to winning the bid. We have excellent, award winning accessibility features and products, which were important for the bid too.
What measures have you taken around sustainability?
Sustainability was at the heart of the London 2012 Bid. During the Games, the LMC will operate in accordance with ambitious sustainability principles and targets, for example, the London Media Centre aims to:
Use recycled paper that is sourced from 100% post-consumer waste
Reduce the amount of paper use by 80% compared to a 'traditional' media centre
Recycle a minimum of 70% of waste
Send zero waste directly to landfill
Provide catering inline with the LOCOG Food Vision1
Ensure all timber furniture is FSC certified
How many journalists do you expect to host over the Olympic period?
Over 8,000 media have registered for the LMC via the London & Partners co-ordinated accreditation process and over 150,000 cups of coffee will be served, many from the venue's on site Café Bar.
How many press conferences and events do you expect to be held?
During the main Games period, there will be in the region of 40+ press conferences and events held. But the press conference schedule is being updated very regularly with more events being added, so this is just an estimate.
Is this the biggest event you have hosted?
It is the largest and longest single event we have ever housed. The LMC contract commenced on 18 June and concludes on 15 September 2012.
What will hosting the LMC do for One Great George Street's profile?
The housing of the LMC looks set to continue to escalate the venue's already high profile not only during the 2012 Games period but the legacy will live on into 2013 and beyond. It and puts us in a stronger position to face a possibly challenging UK and Eurozone economic year after the Games. The exposure for our independent, leading Westminster Collection venue has been unparalleled with over 8,000 media from 66 countries visiting. We integrate the use of social media into all areas of sales, marketing and PR and post the LMC contract we will be sharing the photos and interesting stories with existing and new clients via our two company blogs, twitter and facebook.
Have you won any business directly as a result of being LMC host?
A number of meetings, conferences, press conferences and private dining events have been gained both as a direct and indirect result of our housing the London Media Centre. It is going to truly be an exceptional year for our venue, as Boris Johnson said recently, 'A Summer like no other' as we all know what a challenge the July and August months generally tend to be for the UK Meetings industry.
Have you registered with us yet?
Register now to enjoy more articles
and free email bulletins.
Register now
Already registered?
Sign in