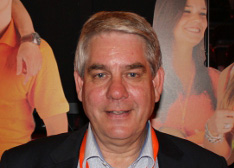 How long have you been involved with creating Holland House for the Olympics?
In 1992, the Holland Olympic Committee approached us about sponsorship opportunities and we made a deal with them to facilitate all their needs on the ground in the Olympic host destination, and in return we got the right to celebrate medal wins by Dutch athletes.
How many people are you expecting at Holland Heineken House in London?
At the last Olympics in Vancouver, we had a record attendance of around 108,000 people so we want to beat that. We're hoping for 120,000 people to visit the house at Alexandra Palace in London.
What's the split between corporate and consumer?
Its 10% for corporate hospitality and 90% for consumers – we have capacity for 6,000, and the space for corporate can hold up to 600. The Dutch Olympic Committee own the hospitality area but we have the right to invite people along, including bar owners and retailer, along with consumer prize winners.
When did you move in?
We took the venue over 14 days ago – we're very experienced at building brand experiences.
How do you get staff involved?
We have competitions in each country to decide who gets to travel over and be involved with Holland House and we also have an intranet and have people blogging every day, and send footage of entertainment to our offices around the world.
What are the key challenges?
We have to look at our key stakeholders and make sure we are meeting their needs. Each one has a specific function, for example we have to have rooms for the royal family and athletes, as well as media – we have four radio stations and two TV stations that broadcast from the house.
Are you impressed with London as an events destination?
London is one of the few big world cities with great experience of events. There is a lot of experience in London. We were here for the Champions League last year, and again next year, and we'll be here for the Rugby World Cup in 2015. London is very well organised, though one thing to improve on could be health and safety regulations and making them easier to understand and all in one place.
Have you registered with us yet?
Register now to enjoy more articles
and free email bulletins.
Register now
Already registered?
Sign in