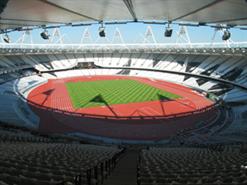 The 2012 London Venues Business Report - commissioned by The Westminster Collection (TWC), Unique Venues of London (UVL) and The Conference Bench - also revealed that 51% of venues think that the Games will improve their 2012 full-year forecast, with nearly half of them predicting revenue increases of up to 30%. Overall, £17.4m of contractual bookings have been made for the period of the Games.
Meanwhile, 67% of venues said they were achieving average day delegate rates of £80-plus in 2012, compared with an average of £52.31 in 2011.
A joint statement from the three firms behind the research said: "Traditionally TWC, UVL and The Conference Bench carry out their own individual annual surveys, but we felt that this year pooling our efforts would create a new-style report with much more comprehensive data.
"The London Venues Business Report provides in-depth information from a whole range of London event spaces, including one of the most comprehensive reviews of London's Olympic Games business yet to be released. We hope to replicate the survey in future years and make the London Venues Business Report a must-read industry survey."
The research was conducted among 100 venues, tourist attractions and hotels across the UK capital.
Have you registered with us yet?
Register now to enjoy more articles
and free email bulletins.
Register now
Already registered?
Sign in