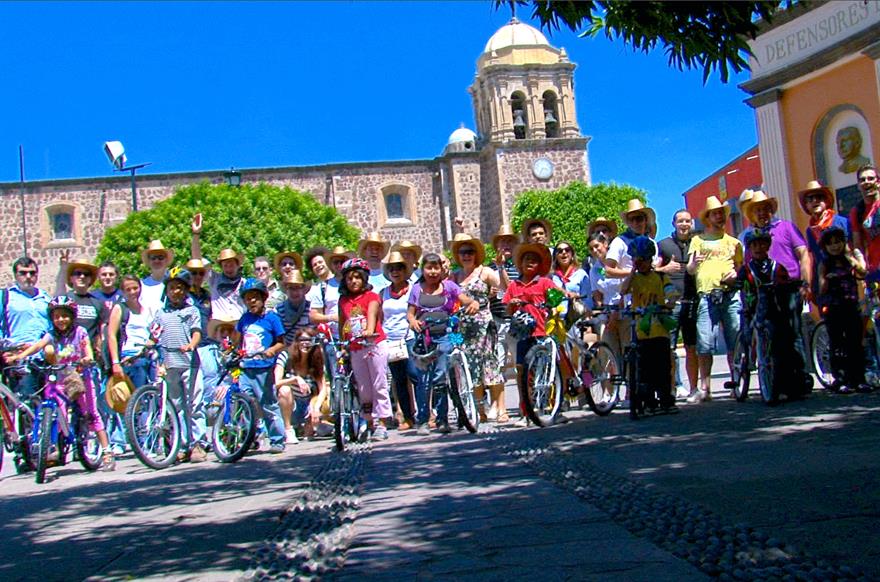 Pre-event planning - Jose Cuervo has traditionally taken clients on incentive trips to foreign destinations without a specific agenda in mind. This year, however, the brand decided to use the incentive as a chance to aquaint 110 staff and clients with the brand's oft-overlooked heritage in its home town Tequila while staying in the nearby city of Guadalajara.
Famous for its abundance of agave plants - used in the making of the cult spirit - the town of Tequila is an important part of the Jose Cuervo's culture. Cuervo's local investment has been significant, with a branded train line providing tours of the town and the surrounding area, and a branded hotel due to open in Tequila in July 2013.
Anja Weise-O'Connor, brand manager of Jose Cuervo, says: "People know destinations like Cancun, but we wanted to make this trip about more than just spoiling delegates. It was about giving a much better insight into the home of Jose Cuervo and challenging some preconceptions."
TFI Group was called in to organise the upscaled event, with responsibility for drawing together an itinerary for the excursion. TFI Group board director Simon Maier says: "We wanted to bring more realism and meaning to the brand. The trip was about repositioning Jose Cuervo."
Objectives - Recent press reports that Diageo is considering acquiring a controlling stake in Jose Cuervo added further resonance to the importance of the brand's repositioning exercise. TFI, which has a 20-year history with Jose Cuervo, says there was more of an urgency to compete in the increasingly competitive food and drink marketplace.
"We wanted to take tequila away from being seen as just a shot glass experience," explains Maier. To achieve this, mixologists from bars around the world joined Jose Cuervo staff and suppliers to be educated on alternative uses of the drink. "Mixologists play an important role in how the drink is perceived worldwide," he adds.
The traditional objectives of an incentive trip were also an important focus. "We aimed to bring people together in a way that would positively impact the brand's entire supply chain," says Maier.
Challenges - Ensuring that the trip's messages would resonate with a large group was a concern for Wiese-O'Connor. "You can't do something like this for 80-100 people (at once), it needed to be more bespoke, so we chose to break up our delegates into smaller groups of 40 people or so, with 110 delegates overall, across two separate trips."
Meanwhile, TFI Group was wary of potential issues involved with bringing large groups of foreign visitors to a country, potentially arousing suspicion from locals. "We worked to position the trip sensitively with locals. It was important to ensure that it would be embraced by everyone," says Maier.
Working out the timetable was another challenge for TFI as the Cuervo train only runs on certain days, and TFI wanted to put together a packed schedule including a club night, Mexican wrestling and a visit to La Rojena distillery in a former chapel
"The brief for this event was very specific. Our site visit was crucial to establish the programme. Research began in September 2011 and we were finally happy with the programme after the site visit in March this year," says Maier.
Solution - To change perceptions of tequila, TFI took the group to some culturally evocative locations including traditional bars, clubs and restaurants in Tequila where the group tried some new twists on the drink. In venue Van Go Club, tequila was combined with strawberries and black pepper as well as an orange slice with cinnamon.
Meanwhile, controlling local perceptions of the trip involved TFI introducing a task that would benefit the community. "We devised a challenge in which delegates were given various parts to make a bicycle, which would then be given to charity, the Jose Cuervo Foundation," says Maier. The task produced more than 20 bicycles for the local town. "A CSR focus to the team-building activities helped with issues of perception," adds Maier.
Client verdict - Wiese-O'Connor says: "The trip was a real success. I attended and talked to the suppliers first hand, so could see that perceptions and expectations were being changed."
Post-event analysis - As well as issuing surveys to delegates before and after the trip, TFI devised several ways to measure feedback from the event, including a locked Facebook wall, on which delegates were encouraged to update their experiences on the trip. "This provided a way to monitor feedback in real time and it meant that delegates could learn from each other's experiences," says Maier.
Maier says that the trip had some additional benefits, with delegates reporting that they had gained a feel for the 'real' Mexico. "Feedback indicated that they appreciated the opportunity to see another side to the country."
FACTFILE
Company: Jose Cuervo
Event: Mexico Incentive
Group size: 110
Agency: TFI Group
Date: 1 June 2012
Venue: Quinta Real Hotel, Guadalajara
TIMELINE
May 2011: Jose Cuervo approaches TFI Group to create a Guadalajara and Tequila trip for May 2012
August 2011: Jose Cuervo confirms TFI Group as the organiser and, against tradition, asks the agency to come up with the programme
September 2011: First meeting between Jose Cuervo and TFI Group, which kicked off several months of negotiation to work through how the itinerary would work
March 2012: TFI account director Tracey Upjohn conducts a site visit to Mexico that put the final pieces of the itinerary together
March 2012: Staff told that the trip would be taking place in June.
Have you registered with us yet?
Register now to enjoy more articles
and free email bulletins.
Register now
Already registered?
Sign in