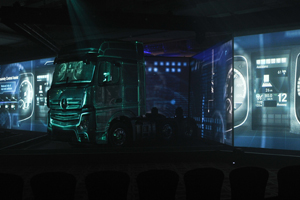 Pre-event planning
Mercedes-Benz has spent EUR2.5bn (£2bn), 11 years and 22 million road-test kilometres developing its new Actros truck. Its launch, according to Mercedes-Benz Trucks sales and marketing director Sam Whittaker, was the biggest-ever truck launch in the UK and "the most important use of a new truck since we invented the truck in 1896".
DBMT was appointed to handle the launch of the new Actros in February 2012 following a three-stage pitch involving six agencies.
Managing director David Bottrill says that the brief the agency was presented with was quite specific, but DBMT took a chance and responded to it with an idea that it thought would work better.
Whittaker says that DBMT came up with a "really quite innovative" concept. "As they knew us quite well, what DBMT did was take greater risks and we were probably more flexible to take greater risks because of our trust in them," he says.
DBMT decided to opt for projection mapping, a technique that has been used on car and flat surfaces, but not on trucks. "On a truck it becomes a lot more complex," Bottrill says.
Mercedes-Benz had already revealed the truck to a worldwide audience last summer but wanted to maximise publicity and sales opportunities by launching the vehicle to the UK market on the eve of the Commercial Vehicle Show at Birmingham's NEC. "It had been launched in Germany, so the world knew about it, but the UK market had not really seen it. This was the reveal that would showcase the product in all its glory," says Bottrill.
DBMT was supplied with final invitation lists from the client, including key dealers and Mercedes-Benz and Daimler personnel. The agency created hard copy invitations and printed collateral, which was signed off by the client. E-shots were sent to delegates telling them 'The New Dimension' was coming.
The agency set up a dedicated team to look after the client's most valued customers - those with more than 25 vehicles in their fleets. DBMT appointed individuals from each dealership, who were dubbed Actros Champions. They were responsible for ensuring the right people were contacted. Around 150 national fleet customers were invited, including buyers from the likes of Tesco and Sainsbury's.
Objectives
Whittaker says the aim was to host a launch "the likes of which had never been seen before in the truck industry". The event needed to convey both the technological innovation of the Actros, while staying true to the traditions of Mercedes-Benz.
Bottrill adds: "The core messages were all around comfort, economy, and driving dynamics. They've taken a big lorry and turned it into something more fuel-efficient than previous vehicles. Comfort inside is key when people buy trucks. So too is how it handles on the road."
Challenges
Bottrill says that for a launch of such magnitude, the lead-time was very tight - the agency was appointed in mid-February and had to deliver an event for 23 April.
Ensuring that customers of the right calibre were invited to the event was another challenge; while another was putting in place contingency plans for unexpected customers turning up on the day.
"Usually you have one client or stakeholder and then everyone else. On this occasion there were a lot of people involved," says Bottrill. "We had to make sure Mercedes-Benz, the dealers and their customers were happy."
Another challenge was the venue, which had been secured prior to DBMT's appointment. Bottrill says working with the access time and getting everything built - two arctic lorries full of equipment - was challenging.
Meanwhile, having sourced so much information and imagery for the reveal, DBMT had to decide what it would use on the day. "We ended up with a huge amount of collateral," Bottrill says. "There was a lot to talk about, but we wanted to keep it punchy, with a reveal process of five to seven minutes."
Solution
The entire event was underpinned by a futuristic theme and the slogan, 'New Dimension', which conveyed the idea that 120 years of Mercedes-Benz technology had led to the development of the new Actros. There were 511 guests, including dealers, their key customers, press and VIP guests from parent company Daimler. The event kicked off with the reveal of the truck.
Part of the sequence showed the technical information and imagery that DBMT had sourced downloading onto screens, leading to the reveal of the truck. Project mapping onto the vehicle was linked to screens on the side. Images were projected onto the front and side of the vehicle to show off the innovative features of the vehicle. For instance, blue-hued images of the seating inside the cab were projected from various angles to give the impression that spectators were seeing an X-ray of the interior.
Following the main truck reveal, delegates were taken along a glowing blue tunnel into a room in which two Actros trucks were situated. There they were treated to pre-dinner drinks served by waiters in Tron-style, blue-lit outfits. A circular bar graced the middle of the space, while huge glowing columns adorned its exterior. Entertainment was provided by the 2.4m tall Titan the Robot.
After drinks, delegates walked into the main room for dinner. It featured 42 custom-made LED-lit tables and traditional-design acrylic chairs that glowed blue. Acrylic candelabras and etched acrylic menus graced the tables.
Delegates were entertained by Laser Man, who stood in the centre of the space and manipulated lasers, while electronic violin quartet Escala played classical music.
Items on the menu were named after Actros models, so the starter was called Classic Space and the cheese course was dubbed Blue Efficiency.
Client verdict
Whittaker has nothing but praise for the launch event. He said that he purposely avoided the dress rehearsal reveal of the truck until the actual event and was subsequently "blown away".
He felt that the event has "redefined Mercedes-Benz Trucks as an organisation. Feedback from delegates was also extremely positive.
Post-event analysis
Whittaker says that questionnaires are being sent to attendees to gain official feedback, but his feeling is that the event was "mission accomplished".
FACTFILE
Company: Mercedes-Benz
Event: UK launch of Actros
Agency: DBMT
Group size: 511
Date: 23 April 2012
Venue: Hilton Birmingham Metropole
TIMELINE
28 November 2011: Brief issued
12 December 2011: First stage (submission to procurement)
13 January 2012: Second stage - presentation one to stakeholders
Late January 2012: Third stage - presentation two to stakeholders
Mid-February 2012: DBMT appointed
Mid-March 2012: Invitations mailed and registration website goes live
23 April 2012: Event takes place
Have you registered with us yet?
Register now to enjoy more articles
and free email bulletins.
Register now
Already registered?
Sign in