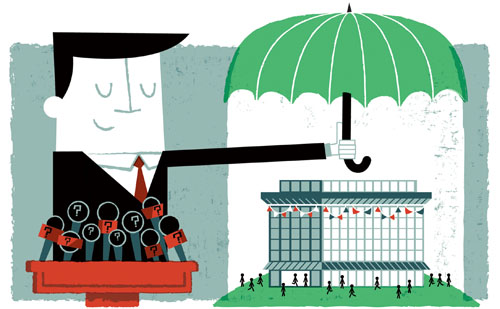 Are you a specialist in events and how long have you been insuring events?
"The market has become more crowded recently with many new entrants who lack the experience and expertise of the established players," says Brian Kirsch, a chartered insurance broker and managing director of Event Assured.
Can you cover my event wherever I decide to hold it and can the insurance be in euros rather than sterling?
Some insurers will only cover events in the UK, says Kirsch, but Celia Galeotti-Wulf, senior event manager at the European Wind Energy Association, says it makes sense to specify the place of jurisdiction. "While we might take out an insurance policy from the UK, because it is less expensive, we would ask that the place of jurisdiction be Belgium as we are based in Brussels," she explains.
Does your event cancellation and disruption insurance protect my whole budget, including my projected profit from the event?
"This is a strategic decision because many associations are refinanced through their events. You need to evaluate the impact if something happened to affect the event. Decide what level of risk you are comfortable with and then compare prices for those policies," says Galeotti-Wulf.
Can you cover disruption caused by terrorism, adverse weather, non-appearance of key speakers, travel disruption affecting overseas groups and loss of critical mass if too many people are prevented from attending the event?
These are just some of the non-standard covers, which only the more experienced providers can offer, explains Kirsch. Cancellation or abandonment cover can often also be used to help an event to go ahead by providing some additional expenses cover, says Martin Linfield, manager of Hiscox Event Insurance. "If a situation develops close to the event start date and some additional money is needed to keep an event going, that is normally considered favourably as long as the costs are reasonable and necessary, and the situation that has developed is covered in the policy," he adds.
Does your liability cover include the right indemnities to protect me, my principals and venues?
"Good liability insurance will include indemnity to venue owners and operators as well as principals, and will also include liability from damage to venues, which is often excluded under poor insurance," says Kirsch. "The venue contract will be the first link with insurance and different venues ask for different levels of liability. You may want to consider if the suggested amount is adequate to suit your needs," adds Hiscox's Linfield.
We are selling packages including accommodation to delegates. Can you cover me against liabilities that arise under the Package Travel Regulations?
"Most insurers will not even understand this question," says Kirsch, who warns that an association may be liable for personal injury claims if deemed to be acting as a tour operator.
Can I cover all the equipment used at the event, including hired equipment, and does that give replacement cost cover, with added cover for loss of hire charges?
"Sometimes you have the option of taking out the hirer of the equipment's own insurance. It depends on the type of cover offered and the premium as to whether you want to split your policies between insurers. Sometimes if all the insurance is in one place an insurer will look more favourably at the premium," suggests Linfield.
Can I contact you 24/7 in the event of a crisis?
"When you are faced with negotiating a claim it is important to have somebody at your side," says Galeotti-Wulf. "If you use a specialist insurer or broker they will know how to approach and defend your case. If you have a question while taking out a policy or there is something you are unsure of in the contract, go back to your broker and ask for advice before you sign. Most of the time it doesn't cost anything," she adds.
How soon can I take out insurance for my event?
"As soon as venue contracts have been signed and deposits paid that may not be recoverable, it is a good time to buy a cancellation policy," says Linfield. "They can be purchased up to two years ahead of the event itself based on an estimate of the budget. For larger events, some insurers may be able to adjust the premium up or down once the final budget is known."
Are volunteers covered by our employer's liability insurance?
"For events in the UK it is a legal requirement that volunteers are covered under an association's employer liability policy," says Linfield. "It's worth checking your office insurance policy to see if these volunteers would be automatically covered and, if not, adding them to the specific event liability policy."
Have you registered with us yet?
Register now to enjoy more articles
and free email bulletins.
Register now
Already registered?
Sign in