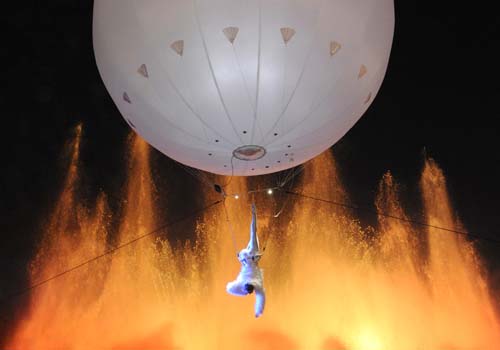 A record-breaking 67,000 people descended on Barcelona for this year's Mobile World Congress, worth an estimated £244m to the local economy. Organised by the GSMA, a trade association that unites more than 1,000 operators in the mobile industry from 220 countries, the event included 1,500 exhibitors covering 70,500m2, a paid-for conference and a closed leadership summit for CEOs and government delegations from 140 countries. However, even with a string of records shattered this year, the GSMA's chief marketing officer Michael O'Hara described the congress as the most challenging yet.
Why was this year particularly tough?
In terms of scale, we faced the biggest challenge to date. There was the threat of a transport strike and a student protest. Metro and bus workers were planning to strike on the first day of the event and students had chosen the square outside the Fira Montjuic to stage a protest.
First, we had to ensure our contingency plans were robust. We selected designated pick-up spots and booked coaches to transport delegates between their hotels and the venue.
We communicated the most up-to-date information through hotel reps and via SMS, email, Twitter and other social media, and press statements. We also used our TV service, which is available in hotel rooms and on large screens at the centre.
The transport strikes were averted on the eve of the congress, but the coaches were already in place so we used them anyway.
To prepare for the student rally, we had to have the police force on board. We built a contingency plan and collaborated with the police to develop plans and to ensure we had their agreement. The police agreed to be on hand to man the routes for delegates. The student protest turned out to be peaceful, but we closed the front entrance and directed attendees to alternative exits.
It helps in these situations to have a strong relationship with the host city. You need to play this sort of situation carefully - you must communicate as much information as you can, but not risk your contingency plans being affected. It is important to not get involved in the disputes, too. We took a neutral stance during the negotiations and dealt with the practicalities.
How did you cope with the demands on wi-fi?
When you have 67,000 people in what is effectively a concrete box using at least one device each that requires the latest 4G technology and the highest bandwidth available, it is certainly a challenge. It is a very expensive use of wi-fi, which we cover through sponsorship. We always work with the local operators in Barcelona to ensure we've got enough support. Attendees shouldn't have experienced problems accessing emails, but downloading can cause problems. We warned speakers that sophisticated demos may not work.
How have you developed the Mobile World Live app?
We have tried to streamline everything into the app. Attendees could watch webcasts, access the floorplan and conference programme, but they could also use the My MWC tool to connect with other visitors and arrange meetings. This helped to facilitate networking. We also held 'Networking by Moonlight' events, where delegates could gather by the fountains before dinner.
You live streamed four keynotes into hotels and via the internet. Why?
When we first tried this with one keynote speaker two years ago, there was debate over whether it would negatively affect attendance levels and therefore sales, but we've experienced record attendance each year and, although I have nothing to prove it, I believe it increases interest in our event and drives attendees. It's great for attendees to catch-up within their hotel room. But you have to get the balance right with how much you broadcast and how much you hold back.
Attendance was up by 11 per cent on 2011. How did you achieve this?
Over the past four years we have tried to expand our scope beyond traditional mobile suppliers. Today, there are seven billion mobile connecting devices in the world. By 2020 there is expected to be 24 billion - more than the world's population. Mobile devices are increasingly becoming embedded in every area of our world and permeating every industry. What I was proudest of this year was Bill Ford, chairman of Ford Motor Company, not only exhibiting, but also launching a car at the show for the very first time. The car has voice-control technology. This underlines the extensive reach of the mobile industry.
What is the key to a successful event?
I take a simple view of what makes an event successful - quality speakers and attendees. We book speakers a year in advance, sometimes longer. Securing Google's Eric Schmidt was nearly five years in the making. We managed to secure Eric's right-hand man at a past congress, which influenced Eric.
We invited him to the event and sold him the concept. You need to have a dialogue-based relationship with CEOs - letters and emails are no good.
Why are you moving to the Fira de Barcelona Gran Via in 2013?
The new venue will provide 50 per cent more space.
Our exhibition this year sold out. We erected temporary structures, but we turned exhibitors away. Next year will not be a year of innovation, it's about transition. A transition team has been in place for ten months.
After an 18-month bidding process, Barcelona was selected over Paris, Munich and Milan last year to become the Mobile World Capital until 2018. What legacy will the GSMA offer?
Mobile-related activities will be held throughout the year in the capital, including the Mobile World Festival this summer.
The vision is for Barcelona to be at the forefront of the mobile industry. Mobile technology will start being implemented throughout the city within the next 12 months, allowing people to use their mobile phone to pay for transport and transactions in shops. I'm sure we'll soon see mobiles being used as a key to open your hotel room door.
The Barcelona Mobile World Capital Foundation was created in March to provide funding for local businesses to invest in mobile technology.
What can we expect for next year?
For 2013, visitors will use their mobile phone to gain entrance to the congress and to pay for transactions at the venue. Rather than wearing a badge that has to be scanned, visitors will wave their mobile phone over a terminal.
TIMELINE
1982: Groupe Speciale Mobile (GSM) is formed
February 2006: Mobile World Congress moves from Cannes to Barcelona
July 2011: GSMA selects Barcelona as Mobile World Capital 2012-2018
17 February 2012: GSMA releases statement on proposed striking action
25 February 2012: GSMA announces contingency plans
26 February 2012: Fast-track registration opens at the airport
FACTFILE
Organisation: GSMA
Event: Mobile World Congress
PCO: GSMA Limited
Group size: 67,000
Date: 27 February-1 March
Venue: Fira Montjuic
Evening venues: Magic Fountain and W Hotel
Fees: £460 - £3,298 (30% discount for members).
Have you registered with us yet?
Register now to enjoy more articles
and free email bulletins.
Register now
Already registered?
Sign in