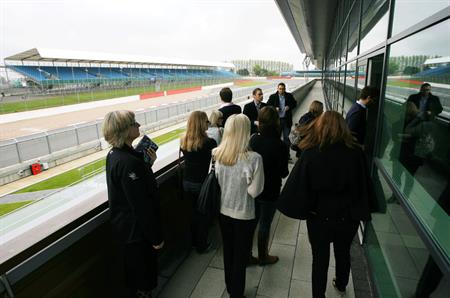 More than 70 event and exhibition professionals attended Silverstone's open day on Friday (04 May) which included a tour, an industry networking lunch and the opportunity to take part in driving and passenger experiences on sections of the world famous Grand Prix circuit.
Richard Phillips, managing director of Silverstone Circuits, confirmed that a further 2,615sqm of event space would be launched in the summer and outlined plans to build three hotels, providing 600 rooms, on-site.
Helen Scott, support people director at Virgin Media, said: "I've had an amazing day looking at Halls One, Two and Three for a conference we are running in September. We've also had a sneak peak at Halls Four and Five with the roof terrace, which I think we are going to use for a forthcoming conference. I've also been out on the track which was just awesome - I have never experienced anything like it. The food was amazing; the staff were wonderful - I'm sold."
Duncan Reid, exhibition director at Clarion Events, added: "It's a really flexible space; The Wing has three halls that can be used for a multitude of different events, from conference and awards to exhibitions. It's a fantastic space and could work as a stand- alone exhibition venue. However, if you, your guests or clients are a fan of motor sport then it's an absolute must."
James Donald, VP, executive producer at Jack Morton, commented: "I think it's a brilliant facility. The Wing is a great space and the opportunities are endless both from a corporate side, non-car related, as well as from a consumer side. As a facility, I think The Wing answers a lot of client's needs."
Silverstone's current event offering:
Hall One and Two - both 1,200sqm with exhibition space for 1000 delegates theatre style each, plus mezzanines measuring 455sqm.
Hall Three – 1,230sqm with a 448sqm mezzanine with round table space for 1000 delegates theatre style, 650 for dinner or exhibition space for 1000.
The International Media Centre – At 693sqm the room can be set up with round tables only, or can be partitioned to allow for conferences, breakout rooms, lunch and entertainment areas running side by side.
Auditorium – equipped with state-of the-art AV equipment and stepped theatre style seating for 104.
Pit garages – 5,768sqm of event space on the ground floor. HGV access from the rear roller shutter doors and 3 phase power in each block, providing space for large-scale exhibitions.
Breakout Rooms – various sized rooms for smaller meetings available. Outdoor event space – considerable outdoor areas ranging from hard standing car parks and paddocks to the race circuits and grassed in-field areas.
Have you registered with us yet?
Register now to enjoy more articles
and free email bulletins.
Register now
Already registered?
Sign in