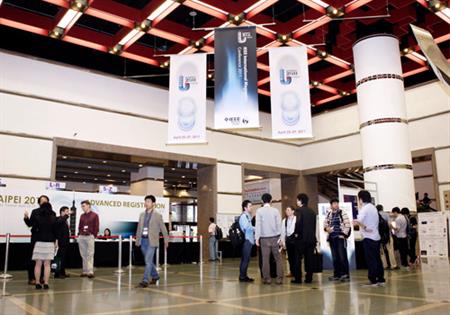 Pre-event planning
Since 1978, the IEEE Magnetic Society, which has 3,300 members, has held the International Magnetic (Intermag) Conference annually. The event is open to those from international scientific communities and enables scientists and engineers to meet and discuss developments in the field of magnetics, magnetic materials and associated technologies.
Every three years, the conference is held outside the US or Canada. In 2006, the Taiwan Association for Magnetic Technology won a bid to host the 2011 conference at the Taipei International Convention Center. The Grand Hyatt hotel was also used as a conference site with the IEEE Magnetics Society sponsoring the event.
Challenges
In recent years, the ratio of participants from Asia and Europe has increased to half of overall attendees, with many delegates coming from Japan. In the run up to the conference, however, Japan suffered a devastating earthquake and tsunami, which threatened to impact on the number of attendees from the country. In addition, with people coming from around the world, the organisers had to handle many visa requests.
Solutions
Contingency plans were put in place to encourage attendance from Japan, with the organiser providing grants to potential participants from disaster-stricken areas to enable them to attend. A total of 35 delegates applied for and received a subsidy of US$500 each to help finance their journeys to Taiwan. More than 300 Japanese delegates managed to attend the conference, constituting the largest contingent of all participating countries.
During the event more than 1,300 participants from the magnetics industry, from some 40 countries, converged in Taiwan. Most delegates stayed at the Grand Hyatt, just a five-minute walk from the venue, but organisers suggested 20 other hotel options.
There were 140 sessions held during the conference and 2,000 papers by scholars in magnetics were submitted, with an exhibition running concurrently, highlighting the latest developments in the magnetic industry. A welcome reception was held on the first evening, with an awards ceremony and a plenary lecture given on the third day.
No partner programme was put in place, but a travel agent, Skyway, was on hand at the registration desk to assist attendees with information, enquiries and arrangements for outside activities, such as a city tour of Taipei and a visit to Yangmingshan National Park with its natural hot springs.
Post-event analysis
"Taiwan has a strong background in magnetic work, which is why we chose the country to host the event," says Ching-Ray Chang, chairman of Intermag 2011. "The venue was good and Taipei has a solid reputation in hosting such events, enabling us to hold high-level discussions."
FACTFILE
Organisation: Intermag
Event: Asia International Magnetics Conference
Group size: 1,300
PCO: Interactive Communications
Date: 25-29 April 2010
Venues: Taipei International Convention Center; Grand Hyatt
TIMELINE
2006: Taiwan Association for Magnetic Technology wins bid to host conference in 2011
January 2011: Online advanced registration opens
February 2011: Deadline for submission of manuscripts
March 2011: The programme's 'At a glance' is released
April 2011: Event takes place.
Have you registered with us yet?
Register now to enjoy more articles
and free email bulletins.
Register now
Already registered?
Sign in