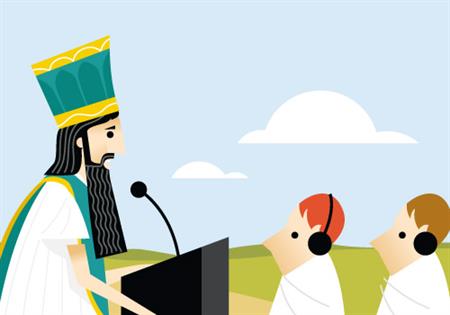 English may be the business language of the world, but simply assuming that everyone who attends your conference is able to speak it could hamper its effectiveness from the start.
Speakers with English as a second language may well express themselves much more clearly in their own tongue, as anybody who has sat through a stilted-English conference speech will attest. It can be easier for everyone if language requirements are built into the event from the start.
Nicola Casey, global events assistant at The Climate Group, says that effective messaging is an essential part of what the NGO does. "Since we are an international organisation, good, clear translation services are often vital at our events."
Limited resources
According to Casey, there are a limited number of top-level translators for these kinds of events. At particular times of the year, such as when the European Parliament is in session, it can be especially difficult to hire interpreters.
Any organiser should start with a checklist of what is needed and look at the languages required. One of the best way to do this is to ask delegates what they want rather than assume what is needed.
Language types
For The Climate Group, the most likely required languages are Mandarin, Spanish, French and German.
The main language of a conference is known as the 'floor language' and will be used by the chairman and principal speakers. Some conferences may have more than one floor language and this will affect the number of interpreters needed.
Experts
Depending on the meeting's subject, a translator with specific expertise, such as law, may be required. They must be provided with as much information as possible. This could include a list of delegate names and industry-specific terminology.
Location and type
Consideration should also be given to the location of the conference. Not only may the venue chosen need to add a translator's booth, but travel distances for interpreters could add costs in the form of meals and accommodation.
The type of event may dictate the type or 'mode' of translation that is needed. At a large event where there are no headphones or equipment for real-time translation, conferences may opt for consecutive translation, where the speaker stops and the translation takes place.
Smaller events
For smaller conferences, where only one or two delegates require a translation, whispering translation may be a suitable option. Here the translator sits beside a delegate and literally whispers to them throughout the event.
Simultaneous translation is where interpreters sit in booths and translate across channels broadcast to the headphones of delegates. Translators might need to work in pairs as they may only be able to concentrate for half an hour at a time.
Jean Henriot, technical director of M&R Communications, which supplies systems for interpreters, advises that clients be exact about their needs. "Tell us how many delegates will be there and how many receivers and headphones will be required. The layout of the room can also affect the type of equipment used."
He advises conducting a run-through and showing delegates how the headphones work before the event begins.
Also, ensure that delegates are aware a translations service will be available. Failure to do so could mean some delegates do not bother to attend.
HOW I DID IT ... Marc West, Red Gecko Group
What was your event?
We were commissioned to provide AV and technical services for this year's Ukrainian Business Week 2011, held at three different venues in central London between 23 and 25 March.
What translation service did you need?
M&R Communications provided a full two-way simultaneous interpretation service between English and Ukrainian for the 150 delegates. M&R installed a conference booth for two interpreters at One Whitehall Place and used wireless infrared transmission and discreet delegate receivers for the silver-service dinner on the first night. Wireless equipment was also used for the 100 delegates at the law firm, a building unused to hosting conferences. The quality of the equipment, flexibility and a supportive service were paramount to providing a quality service on time and on budget.
Marc West is the production manager for Red Gecko Group.
Have you registered with us yet?
Register now to enjoy more articles
and free email bulletins.
Register now
Already registered?
Sign in