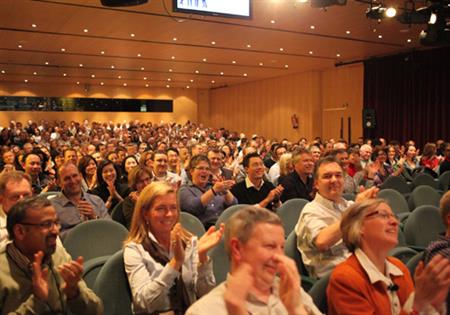 Pre-event planning
The Society for Worldwide Interbank Financial Telecommunication (Swift) periodically holds a global sales convention, usually once every two years. It is seen as a chance for the organisation's various regional sales teams around the world to convene, network, map out the years ahead and share market knowledge.
The member-owned cooperative, which has its HQ in Belgium, therefore needed to find a venue and destination that would be accessible and practical for its purposes.
Challenges
"When we're deciding where to hold the convention, we use an analysis grid, which specifies criteria such as distance from the airport, transfer time, carbon footprint, the type of venue and so on," explains Alex Hewetson, project manager at Swift.
"We came up with a shortlist of six destinations, including places like Nice and Rome, then the executive made the final decision."
Other than coordinating the arrival of delegates from across the globe, another key challenge for the organisers was securing a convenient date.
Solution
"There were constraints and a few changes before we were able to lock down the dates - the staff at the Rey Juan Carlos were understanding and worked extremely hard for us," explains Hewetson.
"The hotel had appealed to us because of its proximity to the airport, its convention centre and the fact it had good links to the city itself. It made for an optimal conference location - we had an entire floor of the convention centre, so we could be very flexible in terms of moving events from room to room."
All three days of the main convention involved plenary sessions, as well as a number of other discussions and presentations. On the afternoon of the first day, delegates were given time to explore Barcelona on a choice of different tours - a trip to FC Barcelona's Camp Nou, a cycling tour or a visit to the Barri Gotic (Barcelona's old quarter) - before evening entertainment came in the form of a networking buffet at the city's Maritime Museum.
The final day of the convention also had a notable itinerary, with a motivational speaker addressing the assembled delegates and a gala dinner, which was held in the hotel's Mare Nostrum ballroom. This event saw delegates take part in an inclusive, light-hearted show dubbed 'Swift's Got Talent'.
As Hewetson says: "It was entertainment by the people for the people."
Post-event analysis
On the Monday immediately after the event, evaluation forms were sent out to delegates for their feedback.
"We scored extremely highly," says Hewetson. "You can't leave it too late when you send out these kinds of surveys - you want the facts to still be fresh and the opinions to be as honest as possible. There was a lot of positive feedback."
FACTFILE
Organisation: Society for Worldwide Interbank Financial
Telecommunication (Swift)
Event: Global sales convention
Group size: 350
PCO: n/a
Date: 18-20 January 2011
Venue: Hotel Rey Juan Carlos, Barcelona
Budget: Undisclosed
TIMELINE
April 2010: Hotel Rey Juan Carlos selected as host venue
November 2010: Invites sent out to delegates
16 January 2011: Preparation begins in the convention centre.
Have you registered with us yet?
Register now to enjoy more articles
and free email bulletins.
Register now
Already registered?
Sign in