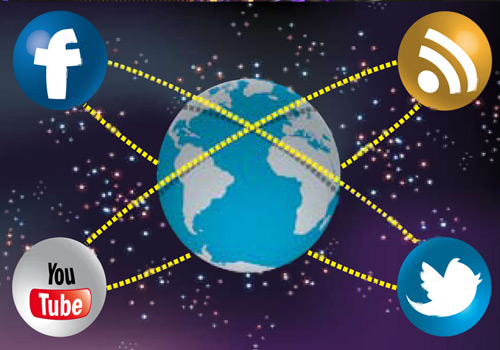 Association members form niche communities that are often dispersed across the world. So what happens to all those important conversations that begin at the convention but never progress until delegates arrive in a different city 12 months later?
Social media is not only the most effective means to keep the conversation going, it is also the best way to extend the congress programme beyond the physical event.
By adopting social media channels and integrating them into association event planning, organisers are able to amplify key messaging, strengthen the community of association members, garner feedback in real time, ask questions of the audience and involve additional delegates in the discussion who may not have been able to attend the event.
Corbin Ball is a consultant who advises clients worldwide on how to use technology in order to save time and improve productivity. He advocates using myriad social media channels in order to achieve success. "Twitter connects delegates during the event and allows organisers to assess feedback in real time, while Youtube, Facebook and Linkedin can all be used to promote interest in the conference programme, build a buzz around the event and showcase images and video to promote next year's outing," he says. "Online applications such as Slideshare and Flickr should be used to archive presentations and memories, making them freely available to delegates, and a variety of mobile 'meeting apps' can be employed to help integrate and enhance."
Mobile apps
In September 2010, Glasgow City Marketing Bureau teamed up with organiser Congrex UK to launch two bespoke mobile apps. These allowed 3,000 delegates attending the World Parkinson Congress (WPC) at the Scottish Exhibition and Conference Centre to download conference, speaker and Glasgow tourism information to an iPhone, iTouch or iPad device.
Eli Pollard, WPC congress manager, says: "We were thrilled with the support we received from Glasgow City Marketing Bureau, with the creation of a Glasgow city guide app for the WPC delegates; and with our management company, Congrex, in its creation of an app to highlight the entire WPC 2010 programme, including speakers and ancillary aspects of the meeting. These two apps have put the WPC 2010 ahead of the curve."
Common objections to embracing this communications revolution include lack of time and resources. But Ball believes that companies refusing to jump aboard the social media freight train will lose business to those that are not only already on board but also driving the technology trends and recruiting brand ambassadors online. For association event planners, this may only apply if a rival event enters the market. However, the communications medium is being driven by user demand so by listening to delegates and their conference needs, the integration of social media could not only increase sign-ups but enhance the overall convention experience in the process.
HOW I DID IT
SCANDINAVIAN AIRLINES' SUS NYGAARD on how she used social media
What was your social media reaction to the volcanic ash cloud of 16 April 2010?
A team of 20 was set up and split into groups of five who worked four shifts a day to manage our Facebook and Twitter channels. The staff came from corporate communications, e-commerce, marketing, human resources and customer relations.
What kinds of messaging were they managing?
On Facebook, customers asked questions about issues including flight times, refunds and buses. The teams communicated internally via Skype, instant messaging, SMS and email to get the right information and ensure posts were answered promptly.
What results did you see?
In just one week we gained an additional 17,000 new fans on our Facebook Like page. More than 5,000 questions were posted on the Facebook wall and 99 per cent of all enquiries were answered within five minutes. Our key messages were communicated and repeated more than one million times and we were praised for our honest communication during the crisis.
Sus Nygaard is manager, conventions and events, Scandinavian Airlines.
Have you registered with us yet?
Register now to enjoy more articles
and free email bulletins.
Register now
Already registered?
Sign in