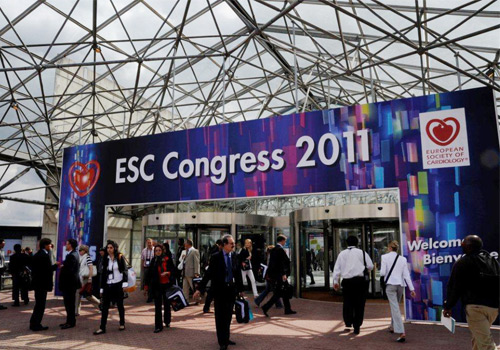 Pre-event planning
The European Society of Cardiology (ESC) Annual Congress is the largest of the ESC's nine annual events and it is the most visible activity for the organisation in terms of scientific content and presenting the society's values. It takes place at the end of August or early September each year and attracts in excess of 30,000 attendees.
Paris was chosen by the ESC board in 2006 as the host city for 2011 using criteria that include local authority involvement and support, venue capacity and layout, sufficient number of bedrooms (20,000), and sustainability.
Challenge
"There are not very many cities that can host us," explains ESC congress manager Nata Nambatingue. "I would say there are just six or seven that could welcome us."
Most medical associations work through an agency to organise their congress, but this is not the case at the ESC, explains Nambatingue. "The ESC operates as a PCO and we do everything internally. We manage the reservations, we set up the scientific programme from scratch, we handle the sponsorship and exhibition aspect and we have a bit of support from a local agent, in this case MCI, with the rooming lists."
Solution
"What is crucial to us is a combined approach from the venue and the city," says Nambatingue. "We probably did 20 site visits in the past two years and we've received a lot of support from the authorities in Paris and the venue. They have definitely met our expectations."
A transport committee set up by the Paris Convention Bureau was a particular success. During the congress, it arranged with the local authorities to double the frequency of trains from Gare du Nord to Paris Nord Villepinte.
Over the the five-day event more than 400 hours of lectures took place, 1,000 faculty members spoke and a record number of abstracts were submitted and presented. It incorporated a new concept for the location of lecture rooms based on the idea of a 'village', so that presentations in chosen fields were grouped in the same area. A mobile app was also made available - another first for the congress.
Around 200 companies exhibited and industry partners hosted almost 100 educational sessions. A fundraising dinner, the only social event open to all delegates, was held on the Monday night and a two-day public event on the prevention of cardiovascular disease was also organised.
Post-event analysis
The congress welcomed a record number of attendees, with almost 33,000 registered participants. "One thing is clear: Paris remains a very attractive location and the increase in numbers is linked in part to the destination," says Nambatingue.
An official debrief with exhibitors took place on site and a delegate survey was conducted after the event to ensure targeted promotion for future ESC events.
FACTFILE
Organisation: European Society of Cardiology
Event: Annual Congress
Group size: 32,949
PCO: In-house
Date: 27-31 August 2011
Venue: Parc des Expositions - Paris Nord Villepinte
TIMELINE
2006: Paris announced as host city for the 2011 congress
July 2010: Congress 2011 officially launched
15 December 2010: Registration opens
16 August 2011: ESC representatives arrive in Paris in the build-up to the event
27 August 2011: Congress opens.
Have you registered with us yet?
Register now to enjoy more articles
and free email bulletins.
Register now
Already registered?
Sign in