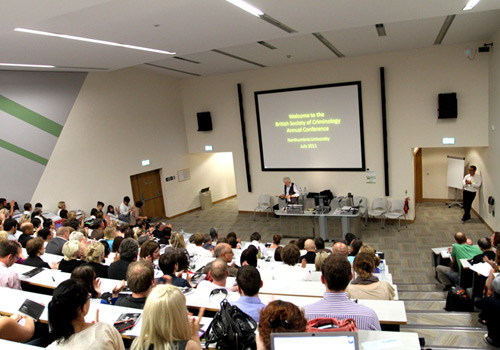 Pre-event planning
The British Society of Criminology (BSC) Conference is an annual event and the cornerstone of professional development within the field of criminology.
In February 2009 the criminology team in the Department of Social Sciences at Northumbria University was given the go-ahead by the School of Arts and Social Sciences to put in a bid to host the 2011 British Criminology Conference. The bid was put together with the support of the Northumbria Conference Office and Newcastle-Gateshead Convention Bureau.
Challenge
"We did have a bit of unexpected competition, just as cuts were beginning to have an effect, from a one-off criminology conference that took place a week before our event," explains Pamela Davies, principal lecturer in criminology at Northumbria University. "There was a split between two criminology factions in the 1970s and this was a one-off event to re-instigate the critical criminology thread. We were very unfortunate that it was the week before and some delegates had to choose between the two."
Solution
The British Criminology Conference still attracted more than 300 delegates. "We already had a really good line-up of speakers and our keynote speaker was coming all the way from California. Some people are stalwarts and as members of the BSC would support it anyway," says Davies, adding that a good proportion of delegates came from English-speaking countries overseas, such as New Zealand, Canada and Nigeria.
In addition to eight plenary speakers, the event included a range of alternative sessions over the three-day programme. These included authors meeting critics, roundtable discussions, networking meetings, a society and editorial board meeting, wine receptions and sponsored sessions.
A number of exhibitions were held in Northumbria University's City Campus East as well as in Gallery North, its contemporary exhibition space. These included a photographic exhibition from Newcastle's Girls Are Proud Project and Insider Art Exhibition - a showcase of prisoners' artwork.
Habita - a venue in Northumbria University's Students Union - hosted a hog roast dinner including local Craster kippers on the Monday evening, while the annual conference dinner took place at Newcastle Civic Centre with live music by local band The Good Souls.
Post-event analysis
"We've had phenomenal feedback with people saying it was the best conference, that it had completely rejuvenated their belief in criminology and that it was really well organised, says Davies. "The venue especially came in for a lot of praise as the conference was all in one place and there was no moving about between buildings, and people were very welcoming."
The 2012 conference will be held in Portsmouth.
FACTFILE
Organisation: The British Society of Criminology
Event: British Criminology Conference
Group size: 300
PCO: n/a
Date: 3-6 July 2011
Venue: Northumbria University's City Campus East (CCE)
TIMELINE
February 2009: The criminology team in the department of Social Sciences at Northumbria University is given approval by the School of Arts and Social Sciences to bid for the 2011 conference
March 2010: The British Society of Criminology conference committee visits Northumbria to view facilities
April 2010: Northumbria learns it was successful in its bid to host the conference.
Have you registered with us yet?
Register now to enjoy more articles
and free email bulletins.
Register now
Already registered?
Sign in