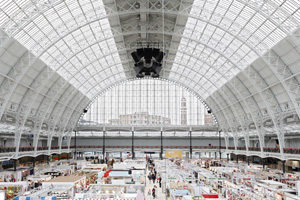 When Centaur Exhibitions chose the first day of UBM's International Confex last month to announce a rival UK meetings show, with ex-Reed Travel Exhibitions group exhibitions director Paul Kennedy on board, it placed itself head to head with Confex.
Unsurprisingly, UBM portfolio director Jonny Sullens was disappointed, arguing that one trade show is better for an industry trying to keep budgets tight, be cohesive and present a united front to government.
Centaur claims that The Meetings Show UK - to take place in July 2013 at Olympia - fills a gap in the market for a UK-based travel and meetings show focused on hosted buyers, in line with the models adopted by European shows EIBTM and Imex. But is there room for another UK show? The answer lies in the hands of the potential exhibitors whose decisions will be linked to the ROI they achieved at this year's Confex.
Quality counts
The international exhibitor numbers at Confex were down slightly this year from 225 to 221, but overall pre-audited numbers showed a five per cent increase in visitor attendance to the show, which now incorporates RSVP and IOEX, and an increase in exhibitors.
However, several of the exhibitors C&IT canvassed reported increased corporate meeting no-shows and decreased visitor numbers.
The show did, however, maintain its reputation for quality. The Brewery's corporate sales manager, Adam Pollington, speaking near the end of the show, says: "We gained six warm leads and have had 40 badge zaps so far."
Lindsay Brown, marketing manager for Visit Scotland's UK Business Tourism Unit, says success need not be measured by post-show enquiry numbers alone. "We had some missed appointments, but made some great leads so it's not all about numbers," she adds.
UBM's Sullens is focused on continued improvement, urging exhibitors to let Confex know who missed appointments.
"We are looking to facilitate penalties for those that miss their meetings. The large proportion of those on the loyalty programme did make the meetings, however."
He added that this year's show had 5,106 pre-scheduled meeting requests placed through the system, in comparison with 750 in 2011.
Location, location, location
While Confex's improvements ticked a lot of boxes, the reception for the new venue, Excel, was lukewarm. Ayca Sentop, Istanbul Convention & Visitors Bureau (ICVB) sales and marketing coordinator, says Excel is perceived as being too remote, adding: "Centaur's show will be off to a better start at Olympia. Confex has been a success for us overall, however, most of our meetings were from venue finders."
There was however praise for Confex's new home, however. Brown said that the venue's logistical team and customer service was more efficient than Earls Court's. Meanwhile, Zanine Adams, head of event solutions and UK sales at London & Partners, says UBM portfolio director Jonny Sullens has clearly listened to exhibitors' concerns.
"He has put together a great loyalty programme and the quality of attendees has been very good. Our industry is all about forming and maintaining relationships, so a show like this is important," she adds.
Meanwhile, Confex's merger with outdoor show IOEX was praised by Rory Sloan, head of production at RPM. "Events cover such a broad range of disciplines so I'm all in favour of the convergence of trade shows. IOEX added a bit of fun."
Alternatives
Although this 'convergence' was turned on its head by Centaur's announcement, the show also faces competition from exhibitors' bespoke events. Lene Corgan, manager of business events at Tourism Australia, says the NTO has had great success with its smaller forums, workshops and independent events. "They allow us to be more targeted with our visitors," she adds.
Pollington adds that the Brewery's Christmas showcases and other offerings have been critical in bringing large delegate numbers in to experience the venue. Confex, then, is negotiating a balancing act between pleasing buyers, exhibitors and suppliers - a challenge for Centaur also.
Getting buyers to the stands is the bottom line for any exhibition. Centaur Exhibitions managing director Andrew Evans says a strong hosted buyer programme will be at the core of its show, which he insists is not a direct rival to Confex. "We did a lot of research on the market's landscape, and the UK is underserved," he adds.
Sullens says Confex always keeps an eye on marketing alternatives for buyers and exhibitors. "Confex has been the leading meetings and events showcase for the UK for the past 29 years, because we listen to the needs of the industry we serve," he says.
Confex remains popular and effective but time will tell whether London is big enough for both Centaur and UBM's offerings.
Have you registered with us yet?
Register now to enjoy more articles
and free email bulletins.
Register now
Already registered?
Sign in