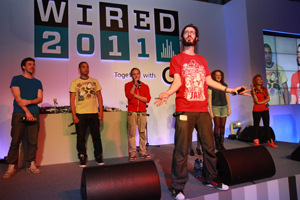 Pre-event planning: In June 2010, Conde Nast approached agency C Squared to discuss organising an inaugural live event around the publisher's Wired brand to reach out to its community of innovators and entrepreneurs. Some 16 months later, the idea had germinated into a two-day conference, Wired 2011, underpinned by a huge social media strategy led by Wired and involving 29 marketing partners.
Objectives: The goal was to make the brand come alive in an inspiring environment and to introduce ideas to delegates, who were mainly company founders and directors.
"The venue had to be magical, unexpected and be able to facilitate networking," says C Squared managing director Katharina Pesch. "St Pancras Renaissance Hotel blends old and new architecture and is connected to the train station - that industrial vibe works with the whole brand positioning. By using the restaurant facilities at the station we could also create a self-contained community."
Challenges: Pesch noted that the hotel was not a bespoke conference venue, necessitating O2 to overlay wireless network through the rooms. Neither, she adds, were the meeting rooms connected, or indeed on the same floor, potentially hampering a sense of flow.
Solution: The organisers introduced ethereal-looking 'angel' guides. They formed pathways from Hansom Hall - where 39 speakers, supported by robots and flying drones, hosted talks on topics ranging from science to pop culture - to the first floor Ladies' Smoking Room space. Here, inventors demonstrated new products.
Further paths led to the station's St Pancras Grand for lunches. In the evening, a BMX stunt rider, comedian, DJ and beatbox artist provided an eclectic mix of entertainment.
Client verdict: "Entering the events space is a whole new way of thinking for Wired, and part of an overall strategy to deliver our content across multiple platforms," says Wired UK publisher Rupert Turnbull.
"In the past, the magazine has done events for marketing reasons, whereas this conference was a new business," he adds.
"It was also a great success." So much so that 60 per cent of the key digital power brokers featured in the Wired 100 survey attended and the event trended on Twitter in London on 14 October with 6,000-plus Tweets.
Post-event analysis: The event will now become a yearly fixture - 25 per cent of delegates booked for 2012 before leaving. Turnbull is looking to freshen the format in a larger venue and for greater focus on networking for 2012.
"We had dedicated hosts assigned to delegates but we want to make sure networking is even better next time. Also, almost 50 per cent of attendees were company founders or directors, so we would like to include them in the talks."
FACTFILE
Company: Conde Nast
Event: Conference
Group size: 440
Agency: C Squared
Date: 13-14 October 2011
Venue: St Pancras Renaissance Hotel

TIMELINE
November 2010: Pitch date
February 2011: Partnership agreed
April 2011: Venue chosen
May-October 2011: Delegate registration
12 October 2011: Event set-up, plus overnight build
13-14 October 2011: Event takes place
Have you registered with us yet?
Register now to enjoy more articles
and free email bulletins.
Register now
Already registered?
Sign in