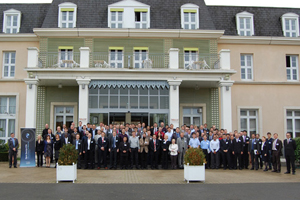 Pre-event planning: Engineering software and services provider Icon, which operates in the field of computational fluid dynamics (CFD) prediction holds an annual conference and event to highlight best practice and new developments in CFD technologies. The event has been running for the last four years in different venues across Europe and attracts experts from industry and academia.
At each event, Icon distributes a questionnaire among delegates, asking them which country they would prefer for the following year's event. At the 2010 conference, held in Munich, delegates indicated a preference for Paris. Icon events manager Loretta Nunez shortlisted three potential venues in Paris and carried out site inspections.
She chose the Dolce Chantilly Hotel, based on the quality of the meeting facilities and the fact that the space was big enough to cater for 150 delegates, while still retaining an intimate feel. The venue needed to be close to major transport facilities, too, and the Dolce Chantilly is a 25-minute drive from Charles de Gaulle International airport.
Objectives: The event aimed to provide opportunities for networking and education, with keynote sessions, presentations, an exhibition and discussion breaks built into the programme.
Challenges: Many delegates flew into Paris Charles de Gaulle airport, around 15 miles from the venue, but some had difficulties getting to the conference, due to the fact that some taxi drivers from Paris did not know where the venue was.
Solution: Wherever possible, delegates were told about this problem and advised to ask taxi drivers to use satellite navigation systems. Some delegates also arrived at Chantilly train station and experienced no difficulties, as local taxis were familiar with the venue.
Keynotes from Volkswagen and Politecnico di Milano opened the two-day agenda, with presentations showing innovative work in CFD technologies. A dinner was held at the Dolce on the evening of the first day, with entertainment provided by a French accordionist. A number of parallel sessions took place on the second day.
Client verdict: "This was the smoothest conference we have run in five years," says Nunez. "The facilities suited the programme very well and the fact that there was free wi-fi available was very appealing. The only problem we experienced was some attendees arriving a bit late."
Post-event analysis: Delegates filled in questionnaires to provide feedback and thoughts for the 2012 venue. Overall, the comments were very positive and planning for this year's event, to be held in London, is already under way.
FACTFILE
Company: Icon Technology & Process Consulting
Event: 5th Open Source CFD International Conference
Group size: 150
Agency: In-house
Date: 3-4 November 2011
Venue: Dolce Chantilly Hotel, Paris-Chantilly
TIMELINE
November 2010: Questionnaires issued at 4th Open Source CFD Conference; Paris confirmed as the destination for the 2011 event
December 2010: Site inspections carried out at three properties in Paris
January 2011: Dolce Chantilly confirmed as venue
October 2011: Delegate numbers finalised
November 2011: Event takes place
Have you registered with us yet?
Register now to enjoy more articles
and free email bulletins.
Register now
Already registered?
Sign in