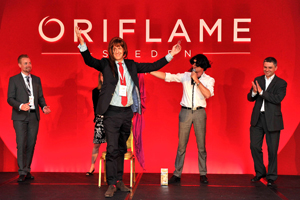 Pre-event planning: Direct-sales cosmetics company Oriflame holds an annual marketing summit, which took place in Frankfurt in 2010.
The company has a research and development facility in Dublin, so it was natural to look to that destination for its 2011 event, which was to centre on the launch of two lines - a beauty cream and a hair product.
Oriflame was looking for an agency to find a venue for the event. Event Partners, which made initial contact with the company at trade show Imex, won the three-way venue-finding pitch, but ended up organising the event as well.
Objectives: The summit aimed to introduce global staff to Oriflame's new products, as well as focus on general marketing strategy for the coming year. Oriflame wanted to highlight the eco-friendly, natural qualities of its cosmetics. As a global company, Oriflame was hosting delegates from across the world, including the UK, Scandinavia and Russia.
Challenges: The company began by seeking a city-centre venue, but both logistics and brand values drove it towards the Ritz-Carlton Powerscourt hotel, located in woods 25 minutes from the city centre.
"The client was very keen on the city centre to begin with, but in terms of rates and availability and the ease of running the programme, we found the Ritz was the best fit," says Jill Hughes, account manager at Event Partners. "Also, it fitted well with the eco theme of the product launch."
Solution: The event took place over three days at the hotel and a day at Oriflame's local office. The eco theme included a rainforest-decorated exhibition stand and extended to logistical elements such as the programme, which was printed on the back of delegates' name badges to save on paper.
In addition to a traditional conference-style event, delegates were split into ten teams, supplied with logos and packaging and sent to film three-minute launch adverts for the new products, using professional, high-definition, helmet-mounted cameras. A technician edited the footage overnight and the teams added voiceovers, presented their films and took part in role-plays the next day.
"The films were very well received - people got really creative," says Hughes. Oriflame went on to use some of the ideas from the films as part of the actual product launch,".
Entertainment included a night at the Merry Ploughboy pub, which claims to be the only pub in Ireland owned and managed by traditional musicians, and a gala dinner at stately home Powerscourt House.
On the last day of the event delegates toured Oriflame's research and development facility, and were treated to local staff performing Dublin-born Jedward's Lipstick song - wearing Jedward costumes.
On departure, delegates were given gifts including coffee-table books about Ireland.
Client verdict: "The Dublin event met all of our expectations - initially we were looking for a city-centre venue, but the chosen venue suited the needs of our event," says event organiser Gillian Byrne, executive assistant and project manager to senior vice president research and development at Oriflame.
Post-event analysis: After the event Oriflame carried out a delegate questionnaire, which revealed positive feedback.
FACTFILE
Company: Oriflame
Event: Oriflame Global Marketing Summit
Agency: Event Partners
Group size: 160 delegates
Date: 13-17 June 2011
Venues: Ritz-Carlton Hotel Powerscourt; marquee at Oriflame's Dublin
office
TIMELINE
8 January 2011:? ??Pitch
31 January 2011: Agency chosen
31 January 2011: Destination chosen
1 March 2011: Venue site visit
15 April 2011: Team-building activities decided
12-13 June 2011: Event set up
Have you registered with us yet?
Register now to enjoy more articles
and free email bulletins.
Register now
Already registered?
Sign in