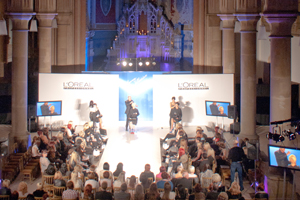 Pre-event planning L'Oreal Professionnel holds a UK Catwalk Showcase Tour twice a year to launch the Spring/Summer and Autumn/Winter Professionnel Colour collections and seasonal hair trends to hairdressers from L'Oreal salons based across the UK.
For its 2011 events, L'Oreal was keen to move away from hotels and try some alternative and unique venues to showcase its products. L'Oreal Professionnel retail education manager Stuart Chapman says: "Hotels can be a bit corporate and not very fashionable, so we wanted to find a different backdrop for our events."
The venues for the 14-date tour are sourced and booked by L'Oreal's in-house events team and Fisher Productions provides the AV, sets and staging for the shows, while Chapman liaises with both the in-house team and Fisher team, briefs the hairdressers involved in the demonstrations and organises rehearsals.
Venues were initially sourced for the Spring/Summer launch in March, and the majority of the 14 spaces were then also used for the October event to launch the Autumn/Winter Colour Collection.
Objectives To launch the Autumn/Winter Colour Collection to UK L'Oreal Professionnel hairdressers, update them on catwalk fashion and hair trends and provide live demonstrations on colouring and styling techniques for them to take back to their salons.
Chapman explains: "The main aim is to bring to life the L'Oreal Professionnel seasonal colour collections for our hairdressers and make runway-inspired hair salon-friendly, so they can give their customers more fashion-inspired consultations."
Challenges The main challenges were sourcing alternative venues that were available for the evening events and suitable for the catwalk and stage set-up; and careful planning of the tour dates and locations to minimise the travel in-between. "A huge amount of work goes into these tours, and attention to detail in the planning is key," says Chapman.
Solution The 14-date tour kicked off in Ireland on 3 October with events in Belfast, Dublin and Cork, and finished in West London on 1 November.
It took in Glasgow, and travelled down through the UK with stops in cities including Liverpool, Manchester, Birmingham, Bristol, two London events and Ashford in Kent. Venues used included the Gorton Monastery in Manchester, the Anglican Cathedral in Liverpool, LSO St Luke's, the Grade I-listed Hawksmoor Church in the City, and The Tabernacle in London. The events were held on Monday, Tuesday and Wednesday evenings, to fit in with delegates' schedules, as many salons have late opening on Thursday and Friday nights.
Around 2,500 hairdressers in total attended the 14 events, with each one attracting 150 to 200. Running from 7.30 to 9.30pm in the evenings, the events kicked off with a video showing clips of all the main runway shows for the season - giving delegates a broad overview of the key runway trends - followed by a video of L'Oreal Professionnel trends, presented by the company's marketing manager.
After a runway presentation of finished models, there were live demonstrations on stage, to showcase colour work and enable hairdressers to see how to create the key colour trends and styles.
At the end of the series of demonstrations, all the models and hairdressers that took part in the demonstrations gathered on the stage and delegates were invited to join them and see the models up close to ask questions and interact with the stylists.
Client verdict Chapman says using alternative venues proved a success, so the plan is to continue with that strategy for the 2012 Catwalk Showcase Tours, which are currently in the planning process. "Seeing a catwalk set-up and runway show in a stunning building like LSO St Luke's in London was fantastic," he adds.
Post-event analysis "We don't officially collect feedback at the events but it is always positive, and the best thing for us is seeing all the hairdressers taking pictures of the models on stage and interacting with them," says Chapman.
He adds that there is an internal feedback session following each tour with the field sales teams to discuss how the events were received and suggest changes/improvements for the next tour.
"The format doesn't change a huge amount but sometimes we make small tweaks so, for example, I think we're going to use more models on the March 2012 tour," he explains.
FACTFILE
Company: L'Oreal Professionnel
Event: Autumn/Winter Colour Collection launch
Agency: In-house team/Fisher Productions
Group size: 2,500 across 14 events
Dates: 3 October-1 November 2011
Venues: A variety of unique UK venues including LSO St Luke's and The
Tabernacle in London; Gorton Monastery in Manchester; and Anglican
Cathedral in Liverpool
TIMELINE
Early 2011: Venues for spring/summer launch in March booked with option to secure for October tour
March-August 2011: Venues secured for autumn/winter launch
August 2011: Invitations sent out to hairdressers
3 October-1 November 2011: Launch events take place across the UK
Have you registered with us yet?
Register now to enjoy more articles
and free email bulletins.
Register now
Already registered?
Sign in