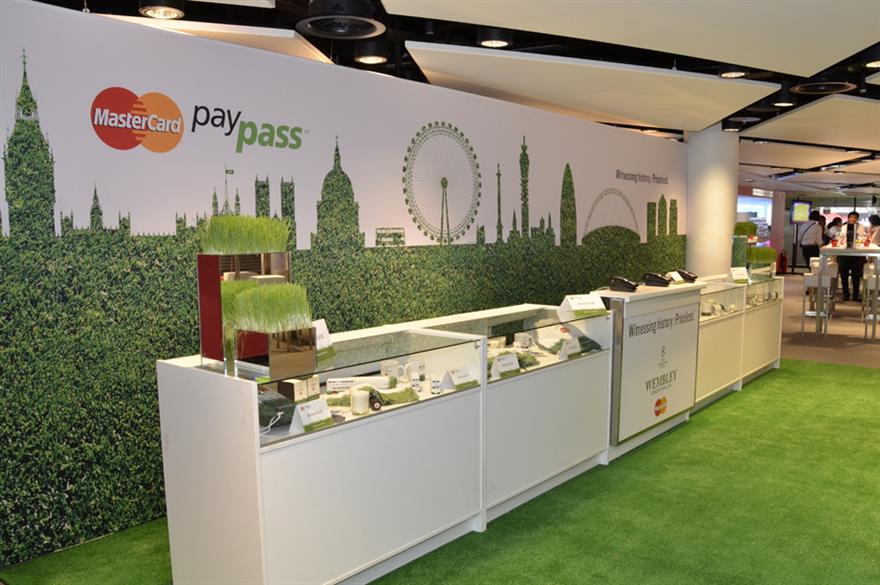 Pre-event planning: Mastercard has been a Uefa Champions League sponsor since 1994 and planned to invite around 700 guests - including staff members and teams from banks and Mastercard merchants - for hospitality at the 2011 final.
The financial company was already working with sports marketing agency Octagon and Imagination was appointed in January to carry out design, production, venue management and develop the concept of a 'priceless' gift for delegates.
Objectives: Imagination account director Natalie Eldridge says: "Mastercard wanted the theme 'history in the making' and to introduce guests to its new Pay Pass technology." The client also wanted to bring to life the host city of London as part of the event, as well as create a unique gift for guests to take home.
Challenges: "The biggest challenge was probably to do with the gift," reveals Eldridge. "We wanted them to take away a bit of Wembley's history."
The Imagination team came up with the idea of giving each delegate a piece of Wembley turf, but careful planning was necessary.
Before being awarded the work, Imagination approached Uefa to float the idea of laying turf that could be pulled up post-game and given to the guests before they left. After getting agreement, a strict timetable needed to be set out so the turf could be framed before the match ended.
Mastercard was sharing Wembley's Bobby Moore Suite with hospitality guests of Ford and, according to Mastercard Europe's vice-president, head of sponsorship, Paul Meulendijk, that made it essential "we worked with the right agency".
Solution: Delegates began arriving from 4.30pm on the day of the match between Manchester United and Barcelona. As part of the brief to introduce Pay Pass technology, guests were given a card with a small amount of money charged onto it to buy London-themed souvenirs from shops specially designed by Imagination.
The turf for the 'priceless' gift had been laid the day before in the tunnel, where the football players would walk. As soon as the game kicked off, the turf was pulled up and Imagination's 12-strong team began cutting and framing. By the final whistle, more than 750 gifts had been prepared, including a piece of the turf and a photo of the players in the tunnel.
Post-event analysis: Meulendijk says: "We did some research on the economic impact of these events and set ourselves objectives in terms of product usage with our banks and merchants. Feedback was that it was an extremely successful event."
Client verdict: Meulendijk says he was impressed with the response to the brief, particularly the gift. "It really became clear Imagination was able to develop something unique and authentic," he says. "It came up with the fantastic proposal to secure an area in the tunnel where the players would walk out on this area of turf, which would then be cut up and given to guests. No matter who won the match, people could still take home this piece of history."
FACTFILE
Company: Mastercard Europe
Event: Uefa Champions League Final
Group size: 700
Agency: Imagination
Date: 28 May 2011
Venue: Wembley Stadium, London
Have you registered with us yet?
Register now to enjoy more articles
and free email bulletins.
Register now
Already registered?
Sign in