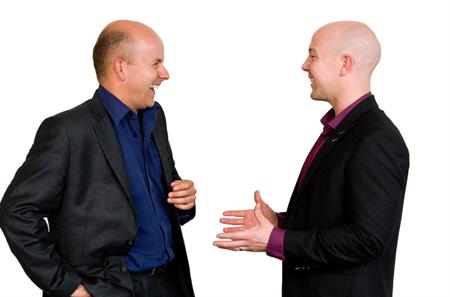 Paul Farris (left), managing director, Juice
"Myself and Alex get on very well, not just because we look a bit alike and enjoy competitive activities, but because he always gives us a clear brief upfront including budget and parameters. He trusts us throughout the process, which frees us up to be creative. He's also been a great advocate of ours, which always helps. A highlight for me, working with Akzo Nobel, was a The Apprentice-themed team-building we held for them. It was so successful that we replicated the event for Akzo's whole UK marketing team too. We also do a lot of team-building activities with Akzo involving heights, and have some good pics of Alex up a pole for our Go Ape challenge. In February we held a conference for 900 Akzo Nobel Decorative Paints delegates at the Birmingham Metropole, so we handle the larger events too."
Alex Price, HR manager- UK operations, Akzo Nobel
"Our first event with Paul was in 2007. It was an HR away day for our 50-strong team. I was leading the team about to execute the event and called Paul after a recommendation. He managed it seamlessly, and I didn't have to do a great deal. We went on to do an I'm A Celebrity day with live snakes and creepy crawlies. Our video, Popstars-themed day in Warwick was also very successful. The idea startled some people to death at first, but the sense of fun and achievement we got from it was phenomenal. There were different props used and allsorts. Juice bring a flexible approach and always find a way of doing something within budget. Paul's staff continuously pull out the stops and it's so nice to work with people you get on with too."
Have you registered with us yet?
Register now to enjoy more articles
and free email bulletins.
Register now
Already registered?
Sign in