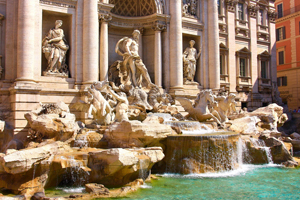 Saffron Elborough, proposal writer, BSI Meetings & Events
In our experience, Rome is often a good recommendation for clients because of its accessibility throughout Europe and its wide and varied choice of venues.
The city is obviously well known for its cultural, historic and architectural heritage which lends itself to incentive and reward type events.
However, Rome also has a good balance of large conference hotels and boutique luxury properties, which is ideal when delivering meetings and many other types of events.
The buzzing atmosphere, great restaurants, bars and clubs, as well as a wide range of activities for delegates, means that the Italian capital is a very popular destination year round.
Paul Bradford, business development director, AYMTM
The ancient nature of Rome acts as an incentive in itself. People want to travel to the city to see these ancient marvels for themselves. Add in such historical sites as the Vatican, the Colosseum, the Spanish Steps and the Trevi Fountain plus the interest in the city derived from TV and film coverage, and you have a destination that has it all.
Rome also provides a perceived high-end value. People want to go there and feel that they have really been rewarded.
As a planner, putting together an exciting programme is very easy as there is so much to see and do in the city. The climate, of course, is very favourable too.
Hotels are in abundance - from the luxurious Intercontinental Roma in the city centre to more budget-friendly properties on the outskirts of the city. Many of the major brands are represented in the city and there are also many beautiful independent properties.
There are some very good Italian DMCs who are able to assist with incentive and conference planning arrangements. A first-class infrastructure, including the Rome Metro, exists throughout the city. Anything that can help the event planner in moving people from A to B, has got to be a good thing.
Tim Horrox, managing director, HMX
Having recently been involved in a very large internal event for a major international client, we found Rome worked perfectly for this project. The client was a major player in the Italian market, so used the local office to bring an Italian theme to some of the content, with visiting professors and economists from the city.
From a delegate point of view, with tight arrival and departure slots, the client needed a huge variety of flights from all around Europe, and that worked out very well, with transfers being quick and usually reliable. Hotel accommodation was plentiful, good quality and good value too.
Have you registered with us yet?
Register now to enjoy more articles
and free email bulletins.
Register now
Already registered?
Sign in