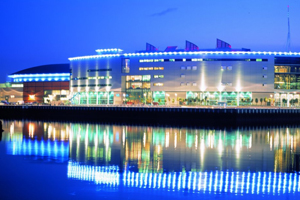 Pre-event planning: Technology firm Epson wanted to launch Workforce Pro, its new range of colour printers, in a series of events across the UK. It partnered with Belfast-based IT company EOS Systems to co-host a launch event in Belfast. EOS Systems is a major reseller of Epson products to the business community in Northern Ireland.
The event, arranged in-house, was aimed at attracting quality delegates rather than large numbers. EOS Systems suggested holding the event in the Point Boardroom at W5, located where the Titanic was built. It was familiar with the space, having used it last year.
"The venue has fantastic facilities, and the boardroom is a small, intimate room that lends itself well to corporate entertainment. It is high up, has views across Belfast, and is a prestigious venue," says EOS Systems account manager Philip Murphy.
The IT firm sent out email invitations to its customers and listed the event on external websites including Linkedin.
Objectives: The event had two main objectives: to introduce key EOS Systems customers to the new product range; and to increase sales of the product.
Challenges: The Belfast event had to take place at the same time as the other UK launch events, so EOS Systems only had one month to plan it. It also had to arrange the event and send out invitations in August, a difficult time because many people are on holiday. EOS Systems had to be persistent to persuade people to come.
Solution: Attendees could drop in during the morning session from 10am to 12.30pm, or in the afternoon from 1.30pm until 4pm. It was an informal setting, with the focus on product demonstrations and discussions. The in-house caterers laid out platters of sandwiches and teas and coffees for delegates.
The new printing range promised high performance, reliability and potential savings on companies' energy use. To demonstrate this, a speed test was used. Items were sent to two rival printers, before sending it to the Epson one. Despite receiving orders to print last, the Epson printer finished first. Epson Interactive Projectors were also on display.
Client verdict: Both Epson and EOS Systems were happy with the event. Murphy says: "We were delighted with the quality of the delegates who turned up. We deliberately designed the event to be an informal and intimate event. We didn't want to carpet- bomb a large group with information, slideshows and death by Powerpoint."
He adds: "The venue has excellent customer service, and we will definitely use it again for future events."
Post-event analysis: On the day, delegates were impressed with the venue and remarked on the views across Belfast. Since the event, all 14 attendees have expressed an interest in buying the products.
FACTFILE
Company: Epson/EOS Systems
Event: Epson Festival of Print
Group size: 14
Agency: In-house
Date: 14 September 2011
Venue: W5 at Odyssey, Belfast
TIMELINE
14 August: Epson and EOS Systems decide to hold event. W5 is selected as the venue
17 August: First wave of invitations are sent out to EOS Systems customers
24 August: Follow-up emails are sent out to EOS Systems customers
14 September: Event begins
16 September: Post-event discussion of event at EOS Systems
Have you registered with us yet?
Register now to enjoy more articles
and free email bulletins.
Register now
Already registered?
Sign in