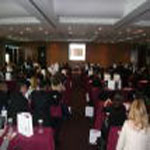 More than 100 people from Qatar's travel and hospitality industry gathered attended the Qatar Online Tourism Seminar at the Doha Exhibition Centre, where they heard from experts about the uses of digital tools and e-marketing techniques.
Held in association with E-Tourism Frontiers, the workshop highlighted the importance of e-marketing and using social networking tools including Facebook, foursquare, Twitter and Linkedin to boost sales and bookings. Attendees learned how to engage through social media and the internet and through iPad and iPhone applications.
Attendees were given a number of successful case studies where digital tools have been used to garner more exposure, including Australia and more recently South Africa during the 2010 World Cup. They were also told about the importance of web design, content and management.
The seminar attendees were also briefed about the QTA's digital media campaign to be undertaken in the Asian market. The "48 Hours" campaign will target business travellers and high-end tourists to stop over in Doha on their way to other destinations. The campaign was promoted in the European and UK markets last year.
"The 48 Hours campaign is designed to stimulate interest in and travellers to Doha," said Simon Ferguson CEO of The Agency, which is working with the QTA on the campaign, which will use banner ads and other digital tools to drive bookings
Visit C&IT's Qatar Destination Guide
here
Have you registered with us yet?
Register now to enjoy more articles
and free email bulletins.
Register now
Already registered?
Sign in