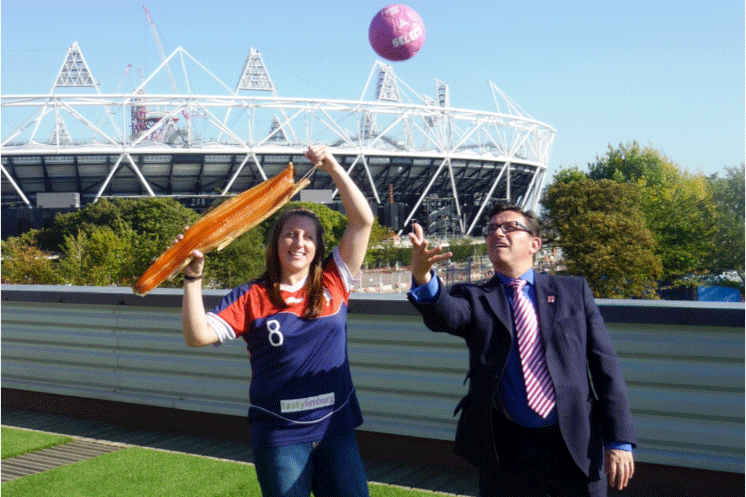 Forman managing director Lance Forman was keen to sponsor an athlete after providing salmon at the opening of the Handball Arena to Prime Minister David Cameron and his deputy Nick Clegg.
He said: "As we are only 100 metres from the Olympic Park and have been involved in the Olympics for eight years, this [sponsorship] is a highlight for us. Our business is about dedication, quality and skill to deliver hand made artisan products. Being an athlete needs all these skills and more and Louise is a huge inspiration to all of us."
Jukes added: "It is a great honour to be sponsored by Forman's, their help makes the journey to the Olympic Games a million times easier and certainly less stressful. I'm able to focus 100% on my training and preparations for 2012 thanks to their support. The amazing venue and location of Forman's means that everytime I visit them I can see in front of me exactly what I'm striving for."
Forman's director of events Arthur Somerset added: "We have met a lot of top Olympic athletes here over the past three years. This has inspired our Christmas Party theme, 'Twenty 12 days of Christmas: Five Gold Rings', that brings the athletes to your Christmas event. It's fun, inspirational and brings the excitement of the forthcoming 2012 Olympics to your event as well as raising funds for our wonderful athletes."
Forman's, which has two event spaces with capacity for 200 and 800, has held corporate events for companies including Coca-Cola, Ernst and Young, Shell, Atos Origin, Visa, Nike, Unilever, ODA and Locog.
Notes to editors
Forman's Fish Island is a brand new corporate event and party venue with two spaces with capacity for 200 and 800 respectively. Both have unrivalled Olympic views and have already been host to spectacular events including the EdF, Coca Cola, Ernst and Young, Shell, Atos Origin, Visa, Nike, Unilever, ODA and LOCOG.
The Formans Group
H. Forman & Son is a 4th generation family owned salmon smoker, established in the East End in 1905. They employ 90 staff who supply smoked and fresh fish to top hotels, restaurants, chefs and retailers including Gordon Ramsay, Marco Pierre White, Fortnum and Mason and Waitrose amongst others and also export across the globe.
www.formans.co.uk/home.php
Forman & Field was established in 2002 as a national home delivery service for private customers wanting to order H. Forman & Son's fish as well as gourmet foods from other speciality producers. They are widely regarded as the country's leading supplier of fine food by mail order and online.
Forman's Since 1905, the on-site restaurant opened in February 2009. It seats 50 with views across the River Lea to the Olympic stadium. Executive Chef Lloyd Hardwick, original Executive Chef of the Tate Modern, serves a modern British menu. The restaurant is open Thursday through Sunday. www.formans.co.uk/restaurant
Contact
To arrange an interview, request photography or further information, please contact:
Lance Forman 07971 492121 / 0208 5252 399 lance@formans.co.uk
Louise Jukes
Great Britain Handball
Age: 27 (14.04.84)
Position: Line Player
GB Appearances: 38
GB Debut: December 2007 V Luxembourg (36:22 win)
Clubs: 2011- Now Centralised GB Programme
2009-2011 Asker, Norway
2008-2009 Skovbakken, Denmark
Introduction:
I was selected into the GB World Class Handball Programme after successfully making it through the Talent Identification Scheme in 2007. Like many in Britain I had never seen the sport before but have been able to transfer some of the skills learnt through playing International hockey into handball. Since joining the programme we have had many ups and downs and have faced huge challenges along the way. It has been through our determination, hard work and team spirit that we have managed to get where we are now and with the opportunity to come together in England things will only get better. I'm an extremely motivated and determined individual having given up everything to relocate first to Denmark and then to Norway. I am currently training 2-3 times a day in order to achieve my ultimate aim of competing at the London Olympics
Most memorable moment:
Scoring my first goal for GB against Luxembourg which was also the first goal in the new era of British Handball, something I am incredibly proud of.
Ambition:
To represent GB at the London 2012 Olympics. To continue to increase the sport's popularity in Britain, with a long term aim of helping to produce an English club side to compete in European competitions.
Favourite quote:
'There are no secrets to success. It is the result of preparation, hard work, drive and learning from our failures' (Andrew Carnegie)
Other experience and achievements:
Athlete representative for GB Handball Women's Team- attend British Athletes Commission seminars yearly.
Selected for every single GB camp since joining the programme
Featured in Sunday Times Article 'Names to watch out for'
Previous England Hockey International- 5 caps
East of England Hockey- Senior, U21, U18, U16
County football- U18
Have you registered with us yet?
Register now to enjoy more articles
and free email bulletins.
Register now
Already registered?
Sign in