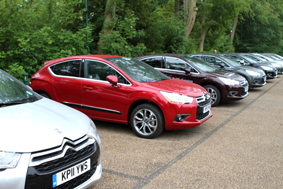 Pre-event planning
Citroen is an existing client of Zibrant and the car manufacturer approached the agency in May this year with a brief to launch the Citroen DS4 to key fleet buyers. The car had already been showcased at a high-profile motoring festival.
Objectives
To attract, excite and inform a group of 60 VIP fleet buyers about the new car and its key attributes.
As the car had already been showcased, it was important to generate a renewed sense of anticipation in this key audience. Zibrant's brief was to present the DS4 in a way that reflected the futuristic product design and reinforced its 'aspirational, non-conformist qualities'. The event needed to combine absorbing presentation and experiential elements, including the chance for attendees to drive the car on a variety of road types.
Challenges
Zibrant's key challenge was finding a 'modern venue with a contemporary twist' that was easily accessible to fleet buyers travelling across the country and suitable for creating driving routes that incorporated the different conditions within A and B roads. "Finding a venue in the Midlands to fit this brief was quite difficult, as it tends to be more traditional country-house hotels like Stapleford Park, which wasn't an option as Citroen has used it before for a fleet event," says Zibrant global account director Denise Warner.
Solution
Kilworth House in Leicestershire was selected as an appropriately exclusive, accessible and appealing venue. "I had used the venue before and went on a site inspection there just a couple of weeks before the brief came in, which was very timely," says Warner. "Fleet buyers are invited to events by car manufacturers all the time, so holding it in a unique venue makes it more appealing." Fleet buyers registered their attendance via a bespoke and personalised online registration website built by Zibrant and featuring full delegate management functionality and reporting. The event kicked off with a one-hour presentation featuring a mix of visual content and video. Zibrant transformed the presentation room with a bespoke 'DS' backdrop in keeping with the urban, funky branding.
The presentation was followed by a further hour of driving the DS4 around a range of pre-planned routes.
Client verdict
"A 'modern venue with a contemporary twist' proved elusive in the Midlands. However, Zibrant's alternative offering of Kilworth House fitted all the other areas of the brief. The pristine condition gave the venue an exclusive and prestigious feeling and, coupled with an ideal geographical location, provided easy access for our guests travelling from around the country," says Citroen event coordinator Julian Webster. "The event ran smoothly from start to finish, which is a testament to Zibrant's pre-event planning."
Post-event analysis
Citroen carried out post-event surveys with its fleet buyers. "We were delighted with the response from our guests," says Webster.
FACTFILE
Client: Citroen UK
Event: DS4 launch to fleet buyers
Group size: 60
Agency: Zibrant
Date: 19 July 2011
Venue: Kilworth House, Leicestershire
Have you registered with us yet?
Register now to enjoy more articles
and free email bulletins.
Register now
Already registered?
Sign in