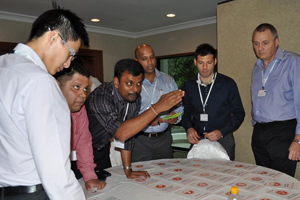 Pre-event planning: BP Shipping wanted to hold four events to engage its shore-based shipping staff around the world. Meetings were to be held in the UK and Chicago, but the series kicked off in Singapore as one of the major hubs of the shipping industry in the Asia-Pacific region.
Prior to each event, invited delegates were directed to a custom-built registration website branded under the theme 'alltogethernow'.
Objectives: BP Shipping wanted to bring teams of people together from across the business to appreciate and celebrate the vital role BP Shipping plays in supporting BP business as a whole. The objectives were to encourage teamwork, energise people and convey company strategy.
Challenge: The gatherings were the first of their kind in BP Shipping's history and the client was seeking an event that inspired and motivated each and every delegate.
"It was specified that all four events must deliver the same delegate experience and strategic content with careful consideration being given to the regional relevance for each location," explains Kim Collins, operations manager at Venues Event Management.
However, the agency had a very short lead time for the delivery of the first event in Singapore - just 11 weeks from the first pitch.
Solution: A Venues Event Management content producer was deployed at BP Shipping's offices to gain a broad understanding of the business and its challenges.
"Our intention was to focus on strong content, delivered dynamically. We achieved this by identifying the key delegate touch-points and then aligning them to the initial objectives set by the client," says Collins.
The project team identified the four touch-points as: core business content sessions for all delegates; business area break-outs to enable delegates to garner an understanding of different areas of the business; and organised and informal networking activities. All four points were designed to offer a variety of engagement mechanisms throughout.
"We used Spotme technology to help us measure engagement and return on investment, and we worked with Spotme developers to push the technology to deliver delegate-driven content sessions," Collins adds.
Client verdict The response was incredibly positive and BP Shipping media and external affairs manager Adam Smith particularly praised the deployment of engagement mechanisms at every stage. "Feedback from delegates shows the true value in pushing the boundaries from a technology and interactive content perspective - they loved it."
Post-event analysis: The 72 delegates at the Singapore event made 4,892 Spotme connections.
The results from post-event evaluation have also been very positive. When asked about their understanding of how all the BP teams function, 97 per cent of respondents said it had improved or vastly improved, while more than a third said their understanding of how their individual role contributes to the success of the company had vastly improved.
TIMELINE
1 April 2011 Venues Event Management invited to pitch for BP Shipping event
14 April 2011 Venues Event Management wins the business
29-30 June 2011 First event takes place in Singapore
July 2011 Two UK events staged at Cotswold Water Park Four Pillars
5-8 September 2011 Final meeting held at the Chicago Wyndham, US
FACTFILE
Client: BP Shipping
Event: Alltogethernow
Group size: 72
Agency: Venues Event Management
Date: 29-30 June 2011
Venue: Shangri-La Rasa Sentosa Resort, Singapore
Have you registered with us yet?
Register now to enjoy more articles
and free email bulletins.
Register now
Already registered?
Sign in