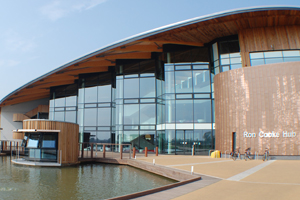 Pre-event planning: Linpac is a £1.1bn global group, employing more than 7,000 employees. In June 2011, the packaging company wanted to host a creativity day for senior members of its innovation team. Linpac's divisional communications manager Barbara Laing visited the new Ron Cooke Hub at York University. "The venue seemed ideal for several reasons," explains Laing. "Firstly it's in a convenient location and secondly it has an excellent atmosphere for our 'creativity and innovation day'." The company hired one of the new 'pods', which was fitted with the latest technology.
Challenges: The main objective was to promote new ideas and creativity. Linpac's director of innovation Alan Davey says that ensuring the meeting began on time was the most challenging aspect, as attendees were coming from a range of locations. "We did have some challenges in finding suitable hotel accommodation in York, but it was soon sorted out," he adds.
Solutions: The Ron Cooke Hub facility was chosen as its location - two miles from the city's train station - was convenient for delegates. The day involved a series of creative thinking exercises to stimulate new ideas. These included team-building exercises such as role-play. The university's staff assisted in every way possible, ensuring that visitors were directed to the right place and the catering services ran on time. In addition the venue was able to provide a quiet and peaceful location to support the company's team in its innovation exercises.
Post-event analysis: Laing says the success of the conference was aided by the "very helpful" staff at York University. "I booked directly with the university and was pleased with their professional attitude." The event brief, which was to provide a relaxed setting for an innovation meeting, was well met. "We were looking for an off-site venue that would be conducive to free thinking and brainstorming," says Davey. "Given the nature of our roles we do spend a lot of time in hotels so we were looking for something a little bit different. I would use the venue again without hesitation."
FACTFILE
Company: Linpac Packaging
Event: Creativity day with the innovation team
Group size: 12
Agency: In-house
Date: 14 June, 2011
Venue: York University's Ron Cooke Hub facility
Have you registered with us yet?
Register now to enjoy more articles
and free email bulletins.
Register now
Already registered?
Sign in