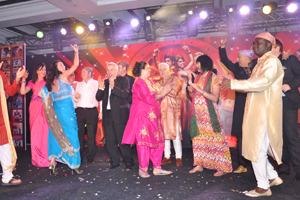 Pre-event planning: Independent high-street pharmacy Numark appointed W&O Events to fully manage its biennial international conference in New Delhi in mid-2010 after the agency delivered successful events in other locations including Dubai and Boston.
Objectives: The event's main objective was to bring together the client's top 150 UK retail managers to understand their operating processes, improve loyalty and build relationships through a business-and-leisure programme.
"Following the success of the previous conferences to Dubai, Boston and Mauritius, we knew the client wanted nothing short of the best. Therefore we identified the Oberoi in New Delhi as the perfect solution," says W&O Events operations director Dawn Mitchell.
"With New Delhi being an up-and-coming destination for the C&I market, and the Oberoi group renowned for their high level of service and deluxe hotels, we were confident this was a winning combination."
Challenges: Changes to the visa process at the Indian Consulate coincided with the time the group was due to submit their applications, meaning W&O had to provide assistance to most delegates.
Additionally, 35 per cent of delegates extended their stay for a family holiday, requesting tailor-made leisure itineraries which W&O provided in-house. Keeping the delegates engaged throughout the six-day conference was also paramount.
Solutions: W&O Events worked with DMC Incent India to provide an itinerary that mixed workshops and networking opportunities with leisure pursuits such as sightseeing, shopping and golf. A dedicated website with built-in delegate registration acted as a central point for all enquiries, from the itinerary, destination and workshops to visa queries.
"The quality and real-time availability of the information was a hit with all delegates - and not least with our client, who could focus on the strategic event objectives and sponsor-management," says Mitchell.
Highlights of the trip included a day trip to the Taj Mahal in Agra. "On the day of the trip, low clouds threatened our return journey and we set the wheels in motion to find an ad-hoc hotel for the group but luckily, the chartered plane managed to take off on time," adds Mitchell. A Bollywood show after the gala dinner, where delegates wore traditional Indian saris, was also a hit.
Client verdict: Numark managing director John D'Arcy was satisfied that the event met its key objective. He says: "I was really impressed with the hard work and diligence to ensure things went smoothly and this was a major contributing factor in the success of our conference."
Post-event analysis: The event was rated 4.98 out of five by delegates responding to W&O's post-event survey. D'Arcy adds: "I could have not asked for the event to be more successful. The feedback we had from members and suppliers has been excellent."
FACTFILE
Company: Numark
Event: Numark Conference 2011
Group size: 150
Agency: W&O Events
Date: 11-18 March 2011
Venue: The Oberoi, New Delhi
TIMELINE
October 2009: W&O is given the event brief
June 2010: Site inspection takes place and hotel is confirmed
11-18 March 2011: Event takes place
End of March 2011: W&O carries out post-event survey.
Have you registered with us yet?
Register now to enjoy more articles
and free email bulletins.
Register now
Already registered?
Sign in