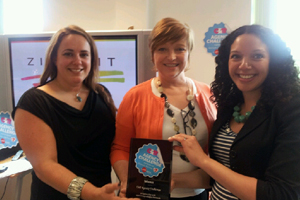 Imagination, Incredibull, W&O Events and Zibrant battled it out to be named winner of C&IT Agency Challenge Live 2011, during a live pitch event at the Royal Danish Embassy.
See pictures from C&IT Agency Challenge Live 2011 here.
Finalists had to propose an innovative and creative three-day programme for a company conference to take place in Copenhagen, Denmark for 80 senior executives travelling from key cities around Europe.
Representing a panel of judges that also included Barclays' Lucy Fairweather and Canon Europe's Linda Hedlund-Klein, comments were provided by Axa Life's head of events Patti Heaven.
The judges' marks were worth 75% of the results, while an online reader vote from 5-15 July accounted for 25%.
Judges' comments on the finalists:
Imagination
"Imagination had a very interesting take on the brief and interpreted it slightly differently, however, their interpretation was amazing because it was so engaging. They linked into the product all the time, which was great. The restating of the brief was very well done and thorough. It was fantastically presented; anyone in the room listening to the pitch would be mesmerised."
Incredibull
"Incredibull presented in an amazingly energetic way. We all loved it and the level of engagement they had. The open book accounting and attention to pre-event feedback was absolutely fantastic. Ideas around the environment, innovation and inspiration were fabulous."
W&O Events
"It is clear that W&O are committed to the environment and spent a great deal of time trying to understand what the audience wanted. They clearly understood the environment was the key thing. They developed a website to launch their theme – Breathe – and we think the audience registration and engagement would be absolutely fantastic. W&O added a great deal to the party in their innovation and creativity."
Zibrant
"Zibrant clearly understood their audience. They introduced something called the Tree of Knowledge, which they revisited by return on investment. They spent a great deal of time on innovation, creativity and design. Their interpretation of the brief was great and their set excited us – all three of us thought we would implement that ourselves. Their schematic was very clever and we loved their collective ideas and energy."

Click here to see their presentations.
Team Zibrant developed the theme Growing Stronger using the symbol of a tree.
Communications including invites, agendas, updates and pre-event work are sent electronically and using QR codes.
Delegates could take high-speed trains, or fly by ISO 140001-accredited airline SAS, while eco-vehicles were used during the conference, where possible. Creating a virtual exhibition meant materials could be used post-event.
The conference production used a club atmosphere for the high-level delegates, while the theme of recycling was emphasised through using experienced leaders knowledge.
'Trees of knowledge' were used for exchanging ideas, with the best eight used as part of a speed networking challenge, in addition to a physical challenge to create energy.
Ideas for speakers included author of The Skeptical Environmentalist Bjorn Lomborg.
Have you registered with us yet?
Register now to enjoy more articles
and free email bulletins.
Register now
Already registered?
Sign in