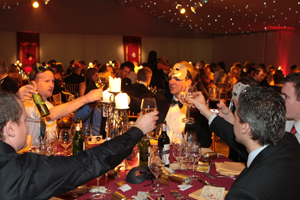 Pre-event planning: Swiftcover.com has used Painshill Park for its summer and Christmas parties for almost three years. The attraction of the venue, says Jemma Norton, PA to the chief executive, isn't just the value for money. Because it is an outside venue in a marquee, the staff can let their hair down in a more relaxed atmosphere than a high-end hotel might offer. Each year, the events team pitch a different theme and menu, making each occasion feel different, says Norton. The venue was chosen following a taster event, with samples of canapes, main courses, desserts and drinks. The events team also pitched the theme for the event, based on a masquerade ball, with entertainment including human flame-throwers, and they suggested using a heated marquee.
Objectives: "We work long hours and at weekends. And we are a funky, entrepreneurial company that likes to let its hair down," says Norton. "So the Christmas and summer parties are a good opportunity for our chief executive Steve Hardy to throw a party to reward everyone."
Challenges: At previous parties, staff tended to mingle for as long as possible, and often got up to see colleagues between courses, says Norton. To facilitate this, she discussed with the events team the possibility of extending the canape reception. When the event took place, it was snowing and the human flame-throwers needed a good grip on the floor, so couldn't perform outside.
A more foreseeable problem with the venue, from Swiftcover.com's perspective, says Norton, is that because it is in a residential area its drinks licence means that parties have to finish at midnight, before revellers are ready to go home.
Solution: The events team suggested doing away with the starters, and instead having an extended canape reception to allow staff to socialise for longer, which was a great success, says Norton. The flame-throwers had to be dropped because the ceilings weren't high enough for them to perform indoors.
To end the evening, Norton arranged minibuses to take revellers to a local bar that has a licence until 1.30am.
Client verdict: The event proved a hit with the staff.
"The party met our brief 100%," says Norton. "Everything was just as planned, and often exceeded our expectations."
Post-event analysis: The company plans to return for its summer party. Norton was planning on trying a new venue for this Christmas but recently attended the taster event and pitch from Painshill. She decided it is "too good to resist".
FACTFILE
Company: Swiftcover.com
Event: Christmas party
Group size: 200
Agency: In-house
Date: 16 December
Venue: Painshill Park, Surrey

TIMELINE
1 June: Pitch takes place
Late June: Venue is chosen
16 December: Event takes place
17-18 December: Post-event feedback is gathered
Have you registered with us yet?
Register now to enjoy more articles
and free email bulletins.
Register now
Already registered?
Sign in