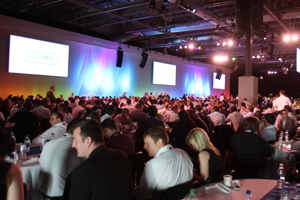 Pre-event planning Best Buy Europe - which operates Carphone Warehouse, Geek Squad and The Phone House - wanted to plan an event that would communicate to employees its core purpose to "inspire and guide".
The company wanted to launch a programme to help its colleagues with "time, money and resource to inspire and guide in the local community", according to its head of employee communications, engagement and CSR Tom Everett.
After site visits to Telford International Centre and the NEC, Birmingham, the team at Best Buy Europe chose the NEC for the event on 14 June.
Around 2,000 attendees were expected for the event - named the One Team Expo - which included main plenary sessions with senior management including chief executive Andrew Harrison, and a separate exhibition hosting stands from suppliers including HTC and HP.
Agencies TBA and The Bank were appointed to assist Best Buy Europe on the conference, while Country Wide Special Events planned transport.
Objectives The group's Compass scorecard programme - which measures achievements through elements such as people, customer service and finance - is a key strand of the business.
Everett explains: "If you do right by your people, they will give better service, which means customers come back and you ultimately gain profits. We had a really important opportunity to inspire people in the business - and give them an opportunity to help make a difference and change people's lives."
He adds that by launching a campaign at the event, the idea was to help employees to "participate in coming up with ideas of inspiring and guiding".
"It is not about the leadership team telling people what to do but getting them involved in how we can make a difference as a business," says Everett.
In addition to highlighting how technology had helped people within the business through videos showing personal stories from employees, a live community outreach element was planned to bring a real buzz to the messaging.
"We wanted to see how we could apply technology to the community and introduce a social aspect to what we do," explains Everett.
Challenges Logistically, planning the live community element of the event was a challenge, says Best Buy Europe's events manager Sarah Forde.
Television presenter Vernon Kay was chosen to lead that aspect - called the library challenge and run by The Bank - and appeared in person at the One Team Expo, before whisking six employees off to a nearby library to kick off the community campaign.
The idea was that the six chosen staff members would help people at the library use technology in a beneficial way.
The challenge was streamed back to the conference via a live link-up. "We needed to work out all the links and be really precise with times," says Forde.
Everett adds: "We really wondered if it would work."
Solutions To ensure a smooth transition on the day, employees were asked beforehand if they wanted to take part in a live community element and a group of 150 people were selected. It meant that on the day Kay could pick six willing participants.
The group went to West Bromwich library, which had been arranged in advance, where they interacted with members of the community to introduce them to technology.
Examples included teaching a pensioner how to use the internet, and helping a young man to connect with his family overseas via Skype.
Client verdict "It inspired people to think they really can make a difference," says Everett. "We are now having discussions to allow people to share their thoughts and ideas for what they can do locally in their community and feel a purpose beyond the work they do. That brings real business benefits - it is a virtuous circle."
Post-event analysis A One Team Expo app allowed delegates to share their thoughts on the event, while a Survey Monkey questionnaire showed they were impressed with the community aspect.
"People couldn't believe we had done it," says Everett. "It has lit a touch paper.
FACTFILE
Company: Best Buy Europe
Event: One Team Expo
Agency: TBA, The Bank
Group size: 2,000
Date: 14 June 2011
Venue: NEC, Birmingham

TIMELINE
July 2010: Initial concept for event
14 Jan 2011: Kick-off meeting
25 Jan: First recce
Mid-March: NEC booked
May: Business areas finalise details
1 June: On-site pre-production meeting
14 June: Event takes place
Have you registered with us yet?
Register now to enjoy more articles
and free email bulletins.
Register now
Already registered?
Sign in