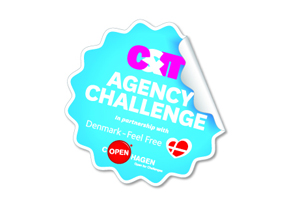 Canon Europe, Axa Life and Barclays event planners gave their verdict on the finalists during a live pitch event at the Royal Danish Embassy.

See pictures from C&IT Agency Challenge Live 2011 here.

Now it's your chance to have your say on which team came up with the best response to the pitch.

Finalists had to propose an innovative and creative three-day programme for a company conference to take place in Copenhagen, Denmark for 80 senior executives travelling from key cities around Europe.
View the entries below and vote here. Voting is open until 15 July.


Imagination

Team Imagination came up with a lightbox - "box full of bright ideas" – to present its Urban Innovations 2012-themed event, showcasing Copenhagen as the world's leading environmental city.
Delegates – including business leaders, urban planners, environmental officers and those in architecture and construction – are challenged to map their route to the event.
The aim is to launch the 'Copenhagen Scale', which measures innovations at city or business level.
Travel is on ISO 14001-accredited airline SAS, while the hotel chosen is the sustainable Crowne Plaza Copenhagen Towers. Sessions include ice-breakers and a Roman Forum-style discussion.
Possible activities include a tour of Copenhagen's Environmental Assessment Institute, and an event at Tivoli Gardens to highlight Earth Hour – where lights are turned off for 60 minutes to focus on climate change.
Day two involves 'Enlightenment', where teams explore the city and search out innovative beacons such as green roofs and sustainable art installations using a mobile app.

Incredibull

Team Incredibull proposed an event called Hello World, which needed to be inspirational and show a clear ROI.
Using the Connect technology system, the team planned to create a Hello World community to encourage dialogue pre-event.
A carbon offset plan was proposed for delegates' journeys, while the Crowne Plaza Copenhagen Towers was chosen for its green credentials.
Profits from a bike tour are used towards collection and shipment of used cycles to Africa, while venues for activities include Cap Horn restaurant, for its organic, seasonal produce, and Nyhavn to visit the longest bar in Scandinavia.

View Incredibull's presentation here

Vote for Incredibull here


W&O Events

Team W&O used the notion of Meetovation – a concept launched by Visit Denmark to encourage companies to use more engaging events – for its Breathe Copenhagen product launch.
Augmented reality is used throughout the conference to allow delegates to explore venues including the Crowne Plaza Copenhagen Towers via their digital devices, as well as launch products as part of a 'wow factor' and to reduce the environmental cost of bringing them on site.
Activities proposed include tours of wind farms and energy efficient power plants.
A treasure hunt is done on electric bikes, while an organic dine-around takes in restaurants Bio M, Bio Mio and Cap Horn.

View W&O Events' presentation here

Vote for W&O Events here


Zibrant

Team Zibrant developed the theme Growing Stronger using the symbol of a tree.
Communications including invites, agendas, updates and pre-event work are sent electronically and using QR codes.
Delegates could take high-speed trains, or fly by ISO 140001-accredited airline SAS, while eco-vehicles were used during the conference, where possible. Creating a virtual exhibition meant materials could be used post-event.
The conference production used a club atmosphere for the high-level delegates, while the theme of recycling was emphasised through using experienced leaders knowledge.
'Trees of knowledge' were used for exchanging ideas, with the best eight used as part of a speed networking challenge, in addition to a physical challenge to create energy.
Ideas for speakers included author of The Skeptical Environmentalist Bjorn Lomborg.

View Zibrant's presentation here

Vote for Zibrant here
Have you registered with us yet?
Register now to enjoy more articles
and free email bulletins.
Register now
Already registered?
Sign in