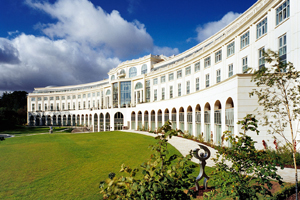 Pre-event planning: Pricewaterhousecoopers' (PWC) tax division has an internal networking programme aimed at identifying the rising stars in the company and allowing them to develop their careers within the consultancy. The company held an initial two events in Switzerland and Germany, and needed a suitable venue to conclude the programme.

Challenges: The event was the culmination of an 18-month programme and was an occasion for review and reflection. As such, the firm was looking for a venue that created a relaxed environment where delegates could interact with their peers. It required a main room for a plenary and breakout rooms for discussions. A teleconferencing link to PWC's London office was also required. Although the event was primarily work-focused, there would be time for more relaxed networking around meal times. It was also an event on a limited budget.

Solution: Sue Muir, senior manager at PWC, opted for the Ritz-Carlton Powerscourt, half an hour's drive from Dublin. The venue had been successfully used for a PWC annual tax conference for senior clients in June 2010. The company had taken exclusive use of the 200-room resort hotel and the event was a resounding success. With this endorsement, PWC was happy to use the hotel again. The December event was on a smaller scale, but expectations remained high. It took over one of the hotel's salons and five syndicate rooms. A local AV company was brought in to handle the teleconferencing requirements. Meals were held in the hotel with lunches at the hotel's Gordon Ramsay signature restaurant. A welcome dinner was held in a private dining room on the first night, and the next night the group ventured to Dublin's highest pub, the Johnnie Fox, for an evening of Irish music and dancing.

Post-event analysis: With the Christmas season in full swing, the hotel was exceptionally busy, but Muir says that Powerscourt's events team still gave their all. Having experienced the hotel for a large, exclusive-use event, she was pleased that it could also handle an event that required a change of pace, although she admits she would not usually have considered the same venue for both. Powerscourt handled both equally well, she says. "There were a lot of people coming and other events being held at the same time. Despite the fact that the venue was obviously very busy, the attention to detail was still there," says Muir.

FACTFILE
Company: PWC
Event: Partner meeting
Group size: 40
Agency: In-house
Date: 13-15 December 2010
Venue: Ritz-Carlton Powerscourt, County Wicklow
Have you registered with us yet?
Register now to enjoy more articles
and free email bulletins.
Register now
Already registered?
Sign in