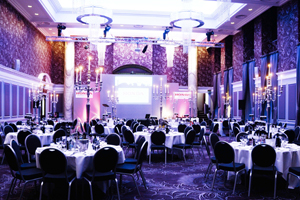 FACTFILE
Company: Honda
Event: Awards/gala dinner
Group size: 140
Agency: TRO
Date: 3 February
Venue: Grand Central Hotel, Glasgow

Pre-event planning
The key objective in holding the event was to recognise individual dealerships' contribution to Honda's business.
TRO helped Honda run the inaugural event in 2010, but then took on more responsibility for 2011, overseeing all venue liaison, delegate management and branding.
"We did not have to pitch, as we have a long-standing relationship with Honda," says TRO account director Luci Beaufort-Dysart.
Matt Gill, north regional operations manager for Honda UK, says: "There were two key objectives - to say thank you to the Northern Region for its collective performance in 2010 and to recognise some key dealer performances and reward the best in each category. I have worked with TRO in the past and found them to be very efficient, organised and reliable."

Challenges
An unexpected challenge came in the form of a fire drill just as the managing director of Honda was set to deliver his speech. "Everyone had to go outside in the rain for ten minutes - we did lose a couple to the pub at this point," says Beaufort-Dysart.

Solutions
The Grand Central Hotel, Glasgow was chosen because it had recently "undergone a massive refurbishment, it has an excellent location and the staff are fantastic", says Beaufort-Dysart. During the fire drill, "we just had to keep everyone's spirits up and chivvy the hotel along to check we could go back in asap", she adds.
Despite the unexpected interruption, the event went smoothly. Delegates enjoyed a luxurious Champagne reception on arrival, followed by a three-course dinner and the awards presentation in the Grand Central Ballroom, rounded off by post-event drinks. The majority of delegates stayed overnight in the hotel.

Post-event analysis
"A key indicator of success is how many people turned up. Of the 128 invited, there were 112, which shows how much they were looking forward to this event," says Gill.
Honda measured the success with post-event questionnaires, which revealed 70 per cent of the guests rated the venue as excellent, with the remainder saying it was good.
"The team and I also received some very direct feedback from our dealers via email or phone calls. They clearly enjoyed themselves and are keen for us to repeat in 2012," he adds. Honda plans to work with TRO on a number of upcoming events, including its BTCC sponsorship activation and various corporate occasions including a Wentworth golf day.
Have you registered with us yet?
Register now to enjoy more articles
and free email bulletins.
Register now
Already registered?
Sign in