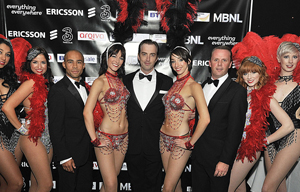 Ericsson at Keele University
Agency Active and Keele Conferences & Events hosted a celebratory evening across its university campus for Ericsson and partners in order to launch a new super network, formed out of a partnership between 3UK, T-Mobile, Nokia, Ericsson and Mobile Broadband Networks.
More than 500 employees were greeted at Keele on 17 October 2010 by performers dressed as courtiers, who ushered guests into a Champagne reception. String quartet Blaze provided the background music before guests moved into the main hall for speeches. Blaze performed while guests dined before they went on to explore the rest of the venue. The event space featured a retro games room, sweet shop and performance area, headlined by the Rat Pack, complete with Vegas showgirls. At 10pm guests went outside for a fireworks display over the lake before heading back inside for a performance by singer Alexandra Burke.
"The evening was a huge success," says Paul Limburn, Ericsson's internal communications manager.
"We were impressed with how flexible the events space is and the quality of the food by the in-house venue team."

Specsavers at Birmingham ICC
Specsavers' Professional Advancement Committee (PAC) conference, which is the largest one-day annual education conference for opticians in the UK, was held on 17 October last year.
"The ICC offers a venue that can cater simultaneously for large-scale presentations, small workshop sessions and a fast and professional turnaround on things like catering and creating exhibition space," says Specsavers conference event manager Mandy Le Bachelet. "We have run the event for 17 years and, in that time, have built up a good working relationship with the ICC staff."
The conference is held each year on a Sunday for more than 1,000 delegates, so Specsavers has to ensure that the content is strong enough to draw opticians away from their high-street stores on what for some is a busy trading day. "A lot of work goes into the programme to ensure that we can secure the right mix of topics and presenters to meet current trends in the industry," Le Bachelet continues. "Delegates rated the programme four out of a possible five points across the board and 100 per cent of qualified opticians said they felt the conference was a valuable way to update their professional development."

Ceuta Healthcare at Barcelo Hinckley Island Hotel
Ceuta Healthcare combines its annual sales conference and AGM with a Christmas party. In 2010, it staged the three events across three days from 20 to 22 December at Barcelo Hinckley Island Hotel, Leicestershire.
"The hotel appealed because of its size and excellent location. We found that there weren't actually a lot of hotels that could accommodate an event as large as ours, where most of the delegates would be staying overnight for a few days. As we are a national company, the location of the hotel, in the heart of the Midlands was ideal for our guests who had to travel from all over the country to attend," says Ceuta Healthcare group director pharmacy Chris Clarkson.
During the first two days 120 delegates attended the sales conference. On the first night the hotel staged a pub quiz, and on the second evening a horseracing and curry night. On the third day, they were joined by a further 80 delegates for the AGM and Christmas party, which had a 'winter wonderland' theme. A gala dinner in the hotel's Paris suite was followed by a Robbie Williams tribute act.
"The events team took the time to get to know our company and understand our aims. We also got excellent value for money and we're considering returning for this year's event," says Clarkson.

Leigh Cables at Sywell Aerodrome
After running small-scale client hospitality events, including clay pigeon shooting and bowling, Leigh Cables decided to go for real 'wow factor' by taking 15 clients to Sywell Aerodrome in Northamptonshire to fly in The Blades' stunt planes on 24 March.
Other activities during the day, which was organised by 2Excel Aviation, included learning how to fly a helicopter, with dual controls, and working with ex-RAF pilots to map the course for the flights.
A Champagne reception and three-course lunch, hosted by ex-Virgin Atlantic air hostesses, was also provided for delegates, who received training and briefings from The Blades team before taking off.
"The organisation involved one call to 2Excel and then we were away," says Leigh Cables managing director Darran Lowde. "The itinerary for the day can be adapted to what you want to achieve. For us, this was just a chance to say thank you to clients after a very tiring end of Q1. The aim was to cement our working relationships with a day that would really stick in their minds and I think we achieved that in exhilarating style."
Have you registered with us yet?
Register now to enjoy more articles
and free email bulletins.
Register now
Already registered?
Sign in