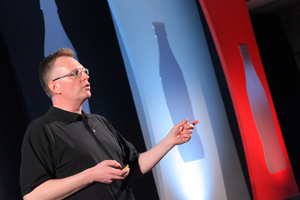 FACTFILE
Company: Coca-Cola Enterprises
Event: Operations Supply Chain: Conference and Awards (Oscas)
Agency: MCM Productions
Group size: 180
Date: 22-23 March
Venue: Beaumont Estate, Old Windsor
Pre-event planning:
Coca-Cola Enterprises (CCE) has sites across Europe, as well as a total of 4,500 employees working at manufacturing sites, regional offices and depots in England, Scotland and Wales.
The company wanted a platform for formally launching its continuous improvement programme - Operational Excellence - as well as a conference and an awards ceremony for 180 employees.
The venue - Beaumont Estate in Old Windsor - had already been selected by CCE and, after a four-way pitch, MCM Productions was chosen to deliver the event. Titled the Operations Supply Chain Conference and Awards, it was snappily tagged 'the Oscas'.
Objectives:
CCE's different sites all report performance through a series of score cards, as operations project manager Trevor Newman explains: "As a business, we are all aligned in terms of how we report performance. However, I wanted to find a way to bring that to life for the teams."
The idea was to create a conference that would tie in with an awards ceremony, as well as combining an element of fun for delegates, adds Newman.
"There was a huge opportunity to get everyone together in one place," he says.
Manufacturing efficiency was a key message that needed to be communicated as part of the event, along with creating momentum for a third consecutive year of success for the business. Hence, the theme Three is the Magic Number needed to be embedded in the event, along with the message Open to Ideas.
MCM Productions' events manager Mandi Watty-Miller says: "CCE wanted to make it a red letter day so everyone would want to come back next year."
Challenges:
A key aim was to avoid "death by Powerpoint", according to Newman. The conference elements of the day needed to be interactive, as well as including a team-building session.
Meanwhile, the 180 delegates - including 40 from the UK - hailed from countries including Germany, Sweden, Norway, France and the Netherlands, so it was critical that sessions were planned that would help break the ice and encourage networking.
This was even more so because the attendees ran the gamut of the supply chain, covering operations, HR, finance and quality divisions.
It was really important to get the delegates energised and excited about the year ahead, while recognising their achievements. A total of 13 awards were set to be given out during the gala evening, so a challenge was to keep guests' interest and engagement throughout the ceremony.
Watty-Miller adds: "It is the first time CCE has held the event and awards, and they wanted to get across the fact it is a fantastic brand."
MCM also devised the idea of an early morning newspaper to greet delegates as they woke up following their first day and the awards ceremony.
"That was the main challenge because we wanted it to be hot off the press when they woke up," reveals Watty-Miller.
Solutions:
To maximise the excitement levels for the event - which coincided with the 125th anniversary year of the Coca-Cola drink - CCE commissioned the production of 250 specially designed Coca-Cola bottles that reflected new, colourful branding.
The limited edition bottles were left in each of the delegates' rooms to discover on their arrival at Beaumont Estate.
CCE had requested a team-building element take place after the main conference sessions, but MCM proposed it at the very beginning of the first day.
A drumming session was delivered by team-building company Advance.
"At first they weren't sure because they usually had a Powerpoint first, but it worked really well because it very quickly broke the ice," explains Watty-Miller.
The conference was carried out in English, but to take account of French-speaking delegates, there were also posters and Powerpoint elements in French. CCE representatives were also on hand to translate during breakout sessions, which took place in rooms covering the themes of method, maintenance, people and manufacturing.
To give attendees a personal experience during the awards ceremony, MCM had asked what music they would prefer if they won an award. "It took a lot of organisation but it meant they knew we had really listened to them," says Watty-Miller.
Photos of all the winners were taken on the night, along with statements, and the team worked through the night to produce a newspaper that would be under delegates' hotel room doors for when they woke up.
Client verdict:
"MCM Productions had a real appreciation of our business and nothing was too big an issue," says Newman. "They came up with an idea and concept that was unique."
He added that feedback scores were "very high", with individual responses ranging from feeling "incredibly energised" by the event, to it being "the best conference they had been to".
"Two things stood out as being very impactful; the team-building and the awards were absolutely brilliant," adds Newman. "There is very little I would have changed."
Post-event analysis:
A scoring system was used to collect feedback from delegates on elements including the business messages discussed, the awards and dinner and the event overall.
Of the 180 delegates, 167 responses led to an average rating of 3.88 out of four for the awards and dinner.
The business messaging received a score of 3.67, while the average score for the Oscas overall was 3.93 from a total of 172 responses. CCE has now appointed MCM Productions to deliver a similar event in 2012.
TIMELINE
December 2010: Pitch takes place
22 December: MCM appointed
Mid January 2011: Kick off with stakeholders
1-2 March: Stakeholder meetings
22-23 March: Event takes place
Have you registered with us yet?
Register now to enjoy more articles
and free email bulletins.
Register now
Already registered?
Sign in