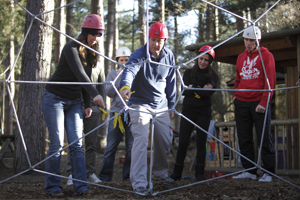 Pre-event planning:
Mitchells & Butlers operates almost 1,700 restaurants and pubs in the UK. Following a period of instability last year, when the company sold off some of its outlets, director of branding, insight and advertising Una Beck Johnson wanted an event to boost morale. "Our teams are structured according to brand and members are very mobile so they don't have the opportunity to engage with other teams or senior management," Beck Johnson says. "We felt it was vital to get them talking to each other and to instill some fun and energy back into their working life." She found Center Parcs Sherwood Forest via the agency Autograph Events, which also helped with pre-event logistics, invitations and registration.
Challenges: Much of the activity planned was due to take place outdoors, so the possibility of bad weather had to be taken into consideration. "Team members are very competitive so we also didn't want them finding out what activities we had in store otherwise they could have prepared," Beck Johnson says. "Teams gained points throughout the day, which then had to be exchanged for ingredients for a cooking challenge finale themed 'Ready Steady Come Dine With Me'. So we also had to collect allergy information about team members and make sure it was communicated to the cooks."
Solution: Teaser invitation emails were sent out and questionnaires were distributed to team members to gather information on food allergies and general phobias. On the day, every team was told about the challenges that lay ahead. Activities included Laser Combat, building a flying machine, a zipwire challenge and the cooking finale. The overall winners were announced at a prize-giving ceremony and the day ended with drinks and ten-pin bowling. "We made sure that senior management figures were spread out across the teams so that they could listen to feedback," Beck Johnson says.
Post event analysis: Beck Johnson concludes: "I received so many emails once back in the office that there was no need for post-event questionnaires. It was a huge success and I can't recommend Center Parcs highly enough for taking as much of the stress away as possible."
FACTFILE
Company:
Mitchells & Butlers
Event:
Team-building group
Group size:
65
Agency:
Autograph
Date:
3-4 February, 2011
Venue:
Center Parcs Sherwood Forest
Budget: Undisclosed
Have you registered with us yet?
Register now to enjoy more articles
and free email bulletins.
Register now
Already registered?
Sign in