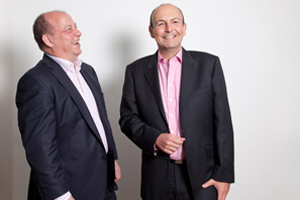 Dale Parmenter, managing director, DRP Group

We have worked with Thomas Cook since 1983 but the first time I met Pete was at an overseas managers conference at Disneyland Paris in 1997.

At the time he was head of training and we had worked separately up until then before coming on site. We had to really hit the ground running.



When we started with Thomas Cook, we were working on the retail side with the training department but it has exploded into this vast organisation with around 20-25 events a year.

There is a mid-season conference in May, another conference involving up to 3,000 delegates from across the business, around four leadership conferences each year, the week-long overseas conference and a series of roadshows and briefings.
We normally meet up about once a month but in the run-up to a big event we will be speaking several times a day. There is no learning curve for us now; we know exactly how the other one's mind works.


A really memorable event was when we had a team of Newcastle cabin crew that had helped save a baby that had gone into convulsions on a flight.
The plan was they would get an award for team of the year and we flew the family out to Turkey, where the event was being held, and videoed them telling the story. It was very emotional and after we showed the video, we brought out the family on stage. The whole room was in floods of tears.


Professionally, both Thomas Cook and DRP are willing to give things a try. There is an element of risk, but if it doesn't work, they accept that.


Pete Constanti, chief executive officer – group destination management, Thomas Cook

The first time I met Dale was when we were running a conference at Disneyland Paris and the team had planned a "news day" team-building event for us. We had a weather reporter and there were buckets of water being thrown around everywhere.
It was all about trying to get three teams together as Thomas Cook had just bought an airline, a tour operator and Club 18-30. We quickly realised there was a lot of work to do and just hit it off. We both have a work hard, play hard culture.
We like to give DRP a challenge and last year we ran a three-night event in Turkey for 1,600 people that was only confirmed two and a half weeks before we did it.
From a content point of view it was hugely important because this was following the announcement of the merger between our retail business and the Co-operative Travel's retail arm. It was the first time to present ourselves as the newly united team.
Over the years we have developed a very good relationship and we like to get together for a glass of wine; some of the finest ideas come out of these meetings.

One of my favourite events was called the Impossible Dream and was held in Cyprus about six years ago. As part of it we made a tongue in cheek video with myself and members of senior management singing The Impossible Dream.
I think Dale set me up because the final shot was of me on a beach in Cyprus and they left me standing there holding the pose while they moved further and further away to get a long shot.
There is a mutual respect and understanding and our values are very similar. We do sometimes have difficult discussions but everyone has the same goal – to deliver the event in the best possible way.
Have you registered with us yet?
Register now to enjoy more articles
and free email bulletins.
Register now
Already registered?
Sign in