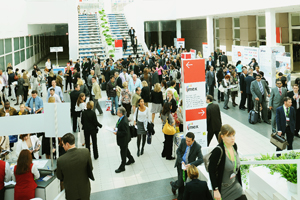 KEY FACTS
Venue: Messe Frankfurt, Germany
Dates: 24-26 May (Association Day 23 May)
Opening Hours: 10.00-17.30
Visitors in 2010: 8,905
Countries attending in 2011: 157
web: www.imex-frankfurt.com
As it looks towards its tenth anniversary next year, and a spinoff show in the US later this year, Imex has emerged as Europe's biggest event for meetings and incentive planners.
Despite the global economic downturn, the annual Frankfurt show attracted 8,905 visitors and 3,500 exhibitors last year. Attention to detail has seen gradual improvement and refinement of the offering, but the underlying approach has remained the same, says chairman Ray Bloom. "The fundamental ethos of Imex in Frankfurt, that it exists to help buyers and exhibitors do business more efficiently, has never changed. By concentrating on getting this aspect of the show right and, by being determined to improve both value and service year on year, we have built up a reputation for excellence and delivery," he explains.
Tweaks to the formula are in evidence for 2011 with more hosted buyers, improved educational offerings and greater use of technology. And, despite a tough year economically and politically, the show's polling indicates a sense of optimism for C&I. The Imex Global Insights Report panel, made up of 45 senior meetings industry and corporate professionals, found that 58 per cent thought the number of events they would handle would rise, and 57 per cent thought budgets would increase in 2011.
Exhibitors
The number of exhibitors this year is expected to match last year's, where 3,500 poured into Hall 8 at the Messe, and 2011 will see a raft of new exhibitors including Oberoi Hotels and DMC Dragonfly Africa. Costa Rica, the Lithuanian Tourism Association and Latvia return to Imex among others, while Thailand, Paris, Moscow, Hungary, the Netherlands and Switzerland will have bigger stands than last year. With the launch of Imex America in October, North American exhibitors will also be out in force including Las Vegas, the Chicago Convention and Tourism Bureau and Texas Tourism. The Wild Card programme brings three new exhibitors: Mongolia, Budva in Montenegro and Jurmala in Latvia.
Education
As well as 80 educational seminars, the Imex education programme will include a series of intimate 'campfire' sessions where ten to 12 visitors will receive fast-track introductions to business skills. Visitors can also hear the latest findings from the ongoing Convention 2020 research by Fast Future Research, which is sponsored by Imex.
Visitors will also have their senses aligned to learning by a scent machine pumping calming odours into one of the seminar rooms. Consultancy Meetings Mindset will be helping visitors to get the most from the show with an online performance centre and advice on brain-training techniques.
Hosted buyers
This year, more than 3,800 hosted buyers from 60 countries worldwide are expected, with approximately 450 from the UK. In 2010, Imex claims that its hosted buyers placed orders of £277m with exhibitors during the exhibition with an expected £1.34bn expected to be placed over the 12 months following the show. Some 20 new hosted groups will be attending the show this year, including Merck Global meetings team.
Sustainable Imex
A champion of the green agenda, Imex practises what it preaches, with a commitment to sustainable electricity during the show, zero-carbon train tickets for hosted buyers and widespread recycling initiatives throughout the hall. A new scheme will provide bins for Imex participants to leave any surplus USB sticks for recycling to schools in India.
The show's Green Awards, which are announced at the show's gala dinner, are open to anyone involved in the MICE sector and champion environmental consciousness in the industry.
Association Day
Imex's Association Day will bring 300 association professionals from 40 countries to Frankfurt - around 30 of them from the UK. Following a day of seminars and networking, the group meets exhibitors and suppliers at a reception at the Westin Grand.
Technology
Imex has developed a mobile app containing show information, a link to a buyer or exhibitor's Imex online diary, and links to its social media pages' content. Linkedin, Facebook and Twitter groups have been consolidated, and QR Codes will be used for the first time to deliver richer content to smartphones.
Have you registered with us yet?
Register now to enjoy more articles
and free email bulletins.
Register now
Already registered?
Sign in