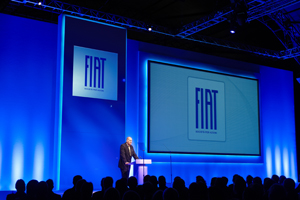 FACTFILE
Company: Fiat Group
Event: Dealer conference
Agency: Lodestar and Karavelle
Group size: 650
Date: 16 December 2010
Venue: Millbrook, Bedfordshire
Budget: Undisclosed
Pre-event planning:
Fiat Group incorporates a number of brands, including Fiat, Fiat Professional, Alfa Romeo, Abarth and, since an alliance signed in 2009, Chrysler and Chrysler Jeep.
Agency Lodestar has worked with Fiat since 2005 and, while the team has previously produced two group events, this was "the first time all the brands were brought together", according to managing director Phil Watton.
Fiat Group Automobiles managing director Andrew Humberstone says: "A fundamental difference of this event from those in the past was the need to integrate all of the brands in one location. This was the first conference where we had Chrysler and Jeep on board and it was important that they left with a positive impression of the group that they had just partnered with."
A total of more than 650 delegates from across the automotive brands were set to attend the network conference, which was planned for December 2010. Site visits took place in May and Millbrook automotive venue was selected for the location as it had an automotive pedigree and the space required.
Lodestar was appointed to carry out all the production and venue management, while Karavelle led on logistics.
Objectives:
"The idea was that each brand would have its own session, but there were also common business messages that needed to be discussed, such as key customer satisfaction and dealer profitability messages," explains Watton. "There is a motivational power in having everything together and saying (to dealers) you are not just selling Fiat or Alfa Romeo, but are part of this larger group.
He adds: "It is going to be an interesting year for automotive, so it was important that we got all the brands to understand the strategy for 2011."
Keynote sessions from senior management, including new chief executive of Fiat Automobiles Andrew Formica and managing director Andrew Humberstone, were planned, while an extensive exhibition space was needed to allow dealers to interact with others across the group.
"Expressing unity as one family while differentiating brand message was a core objective and challenge," says Humberstone. "As the aim was not only to share information, but also to motivate the network, it was important to avoid duplication of brands."
Then in October it was decided that a three-car Chrysler reveal also had to be planned as part of the event on 16 December.
Challenges:
According to Watton, the primary challenge was to ensure a schedule that allowed for the group and individual sessions all in one day. "It was a big event in terms of complexity and size," he adds. "We also had to be mindful that there may have been products that needed to be driven, but in the end that didn't happen."
Delegates were attending the event from across the UK and Ireland, so Lodestar also needed to find a venue that was centrally located. "We also needed a space we could own in its entirety," says Watton.
A plenary space for the 650 Fiat dealers was required, along with a hub allocated for an exhibition space, while a tight programme was essential to ensure delegates could attend all the relevant sessions.
"Some of the people are multi-dealers and might sell all of the brands, so the logistics were really complex," says Watton. "The danger was that people would feel that their brand hadn't had the attention it deserved, so we needed to make sure each had time devoted to it."
Meanwhile, Watton says that when Chrysler decided in October it would be able to launch three cars, the "plans were turned on their head" because another space needed to be found for the reveal.
Solutions:
Millbrook was chosen because of its location in Bedford, which could be accessed fairly easily by the widely based dealers. The venue can also host events for up to 1,400 delegates and had enough space to accommodate breakout and plenary sessions, as well as the exhibition.
Millbrook's Concept 2 space was used for the plenary session as it has capacity for up to 1,250 theatre-style and 700 in cabaret seating, so could fit all the dealers comfortably.
In order to create a suitable area for the three-car reveal, Lodestar hijacked a space that was being used as a cafe throughout the day and transformed it for the launch.
Detailed scheduling across the different spaces being used throughout the day meant that dealers were able to attend all the targeted sessions relevant to the brands they sell.
Four Lodestar staff were on site throughout the day, along with a further six freelancers to ensure smooth running. "Millbrook was fantastic as it was a real challenge for the venue logistically," says Watton.
Client verdict:
"Overall, it went very well with positive feedback from the dealer network," says Humberstone. "We managed to demonstrate the strength of the group without diluting the importance of individual brand messages. The key messages were well received and appreciated by the dealers. Moreover, they appreciated the group dynamics and opportunity to integrate with the other brands."
Post-event analysis:
A debrief was held on 13 January with the directors of each of the brands and Lodestar. "We had an astounding turnout and we were really pleased," says Watton. Plans are now under way to produce an event with a similar format this year.
A dealer questionnaire was also sent out across the network. Humberstone adds: "The consistency of message was appreciated and extended into key drivers and deliverables within the network."

TIMELINE
January 2009: Chrysler and Fiat Group form alliance
May 2010: Site visits
October 2010: Chrysler plans three-vehicle launch
16 December: Dealer launch
13 January: Debrief session
Have you registered with us yet?
Register now to enjoy more articles
and free email bulletins.
Register now
Already registered?
Sign in