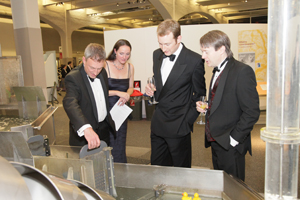 Pre-event planning: Rolls-Royce is one of the largest corporate employers in the Bristol region, and its annual ball is one of its largest events. It is organised by the Rolls-Royce Apprentice Association Bristol, a committee formed from the company's new apprentices, graduates and industrial trainees. The event is usually held at a hotel, but this year the committee wanted to do something different. At-Bristol, a 21st-century science centre on Bristol's harbourside featuring more than 300 exhibits, live science shows and a planetarium, seemed ideal.
Charlotte Jones, programme lead for Rolls Royce's historic engines department,organised the event. She says: "I wanted a new venue that was different from previous years to encourage attendance. At-Bristol was perfect." The event aimed to provide a social networking opportunity for employees and their partners, and raise money for the company's nominated charities.
Challenges: Keeping to budget was key. Jones discovered that while hotels could waive the venue hire charge for such a large event, At-Bristol's charitable status meant it could not. Jones says: "The At-Bristol venue was competing against hotels for our business. This did mean it was more costly compared to previous years as I had to pay for the venue and catering per head separately."
Annette Hawker, At-Bristol's events operations manager, hosted several client visits to discuss set-up options for the event, themed 'starlight'. She worked with Sounds Commercial to create special lighting including a star cloth as backdrop and up-lighters to give the walls colour and fairy lights. "We had an in-depth meeting discussing exactly how many sets of fairy lights we had and their exact position decorating plants and pillars around the room," she recalls.
Solution: Jones found the At-Bristol events staff helpful and conscious of keeping costs down. Holding the reception among the exhibits provided added value and an opportunity for informal networking. "They did all they could in terms of keeping my costs down. We negotiated holding our drinks reception among the science centre's 300 exhibits, which was lots of fun at no extra charge," she says. Caterers Digby Trout worked closely with Jones to come up with a bespoke menu. "This meant the overall event cost came in comparable with hotel offerings," she adds.
Post-event analysis: RollsRoyce was pleased with the outcome. "The At-Bristol team and Digby Trout catering staff were flexible and I would have no hesitation in recommending them," Jones says.
FACTFILE
Company: Rolls-Royce
Event: Annual ball
Group size: 226
Agency: In-house
Date: 6 November 2010
Venue: At-Bristol science centre, Harbourside, Bristol
Budget: Undisclosed
Have you registered with us yet?
Register now to enjoy more articles
and free email bulletins.
Register now
Already registered?
Sign in